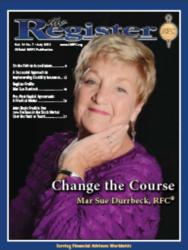 What I'm doing now encompasses all of the favorite things from my diverse career journey!
Middletown, OH (PRWEB) July 09, 2013
Education was the key to her start of Career #1. Even though Mar Sue was the first Human Resources manager on staff of the Chicago Board of Trade, it was increasingly apparent that continued education was part of the plan - a necessity. As a mother of two children, a full time job and a home to tend to, she returned to college and graduated from Northwestern University on her 40th birthday.
After spending a decade in Human Resources, Career #2 began as the founder of Durrbeck & Associates, an organizational development consulting firm. Training managers and professionals with interpersonal skills and career transitions resulted in a positive influence on the performance of individuals and organizations. "What I missed," related Durrbeck, "was a feeling of making a difference on a more personal level." However, these careers prepared her with the technical knowledge and an understanding of how people process information and make decisions.
In the mid 1990's she entered the family financial services company founded by her grandfather in 1911 - Career #3, and has been there ever since dedicating her time to de-mystifying personal finance for business owners, executives, professionals and retirees. Along the way, joining the IARFC and receiving the RFC designation was a perfect fit as the robust continuing education requirements appealed to her commitment to lifelong learning.
As part of the Durrbeck Financial Group, Mar Sue has spent her career in the financial services industry helping companies and individuals optimize their personal and financial resources. For the past fifteen years, she has managed her practice to provide the most personal financial services possible. She thinks of herself as a financial coach believing that people make the best decisions for themselves once they fully understand all their options and the impact of their choices.
According to the Chairman of the IARFC, Ed Morrow, "Mar Sue illustrates how our financial services profession attracts people with a varied background whose greatest expertise lies in helping others to determine their financial objectives and stay on path for a great life and a great retirement." As for her own personal journey, Mar Sue advises, "What I have learned is this: if you're over 40, don't overlook this career option! Life experience and maturity count. Most importantly, this career offers opportunities to do good and do well."
To become a member of the IARFC, visit the website and join the network of successful and experienced financial service professionals. Adherence to a standard of ethics and continuing education are the backbone of the organization's commitment to their clients.