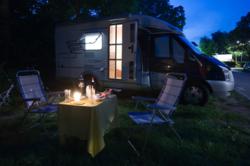 The functionality is excellent.
Anaheim, Calif. (PRWEB) July 08, 2013
PostScan Mail is a virtual mail box now offering a convenient service for motorhome enthusiasts, the modern day adventurers. PostScan Mail lets motorhome owners access their snail mail anywhere on the road.
Motorhome owners have incoming mail being sent to their permanent addresses on a daily basis. PostScan Mail digitizes mail, and customers can read it at their leisure. Mail can even be forwarded to another address, stored, or if the customers don't want it, it can be shredded.
Having PostScan Mail lets motorhome owners focus on enjoying the open road. PostScan Mail makes receiving mail as quick and efficient as the rest of the paperless world. Louis Solis has been using PostScan Mail for the past three months.
"The functionality is excellent," Solis said. "The Graphical User Interface (GUI) is superb, and it's very user friendly. It's a fabulous tool. I like the fact that you can view your mail and download it in Portable Document Format (PDF)."
Solis said he plans on using PostScan Mail in the future, as it is very convenient and offers mobility to mail management.
Having a motorhome means leaving mailboxes at home. With PostScan Mail, customers are taking their mailboxes with them, so their families can enjoy trips while still keeping up to date with all their postal mail. A home is what people make it, and PostScan Mail helps make homes.