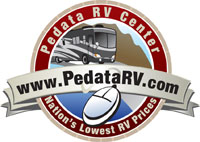 We always like to keep our ears to the tracks regarding any news that may affect RV campers.
Phoenix, AZ (PRWEB) July 10, 2013
Pedata RV Center, the leader in inventory availability for those seeking a used RV for sale, advises campers to use caution around wildlife. This is following the discovery of three squirrels that tested positive for the plague in San Diego County, according to the Department of Health (DEH).
One of the infected squirrels was trapped for routine monitoring at the Laguna El Prado Campground off Sunrise Highway on Mount Laguna. The other two were trapped at the Cedar Grove Campground near Palomar Mountain.
Director Jack Miller of the DEH explained that it is not unusual to find infected squirrels in the area, and that there are simple precautions campers and nature lovers can take to protect themselves. Here are his suggestions to avoid contact with squirrels and the fleas they carry:

If you are camping, set tents up away from squirrel burrows
Don't feed the squirrels
Don't let your children play with squirrels, no matter how tame they seem
Avoid contact with any sick or dead animals
Keep pets on a leash in the outdoors
Use flea control with pets
One of the dangers of the infected squirrels is that fleas feeding on the blood of the animals can spread the disease to humans. The DEH recommends that any campers who get sick within a week of camping in an area affected by the plague get in touch with a doctor right away. While the disease is treatable in humans using modern antibiotics, it can still be serious, or deadly, without medical attention. Some of the symptoms indicative of being infected by the plague are a sudden onset of fever, chills and tender, inflamed lymph nodes.
Gerard Pedata of Pedata RV Center said, "We always like to keep our ears to the tracks regarding any news that may affect RV campers. We want to make sure that not only our customers, but all campers, are aware of anything that may have a negative impact on their RV experience."
Pedata RV Center offers used motorhomes for sale, as well as used RVs, travel trailers, fifth wheels, and campers. Their full inventory is accessible online, and due to their low overhead costs they are able to offer competitive pricing in their industry.