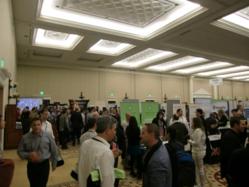 All of the top sponsorships sold out for Affiliate Summit East 2013 by April 2013.
Austin, TX (PRWEB) July 01, 2013
Affiliate Summit East 2013, taking place August 18-20, 2013 in Philadelphia, now has only a small handful of exhibit hall booths and Meet Market tables remaining.
See the live map of booths and tables and book a space online.
Sponsorship opportunities start as low as $750 to reach thousands of digital marketers at the conference.
All of the top sponsorships sold out for Affiliate Summit East 2013 by early April 2013, and many of the smaller sponsorships are gone, too.
When the Early Bird period concluded on May 17, 2013, the attendee registrations for Affiliate Summit were nearly 100% higher than the previous year.
The conference hotel, Philadelphia Marriott Downtown, sold out of the Affiliate Summit group rate. Fortunately, a second hotel, Philadelphia Downtown Courtyard by Marriott, was added, but inventory there is moving quickly.
Reserve a booth or table for Philadelphia at http://www.affiliatesummit.com/13e-exhibitors/
Affiliate Summit was founded by Missy Ward and Shawn Collins in 2003 for the purpose of providing educational sessions on the latest industry issues and fostering a productive networking environment for affiliate marketers.
Attendees at Affiliate Summit events break out into five main categories: agencies, affiliates, merchants, networks, and vendors.
Affiliates account for about a third of attendees at Affiliate Summit.
Affiliate marketers fall into two categories, and they broke out at Affiliate Summit West 2013 as 60% concentrating on the sales of products or services affiliate marketers vs. 40% focusing on lead generation.
The attendance at Affiliate Summit has grown steadily since the inception of the conference in 2003. More details at http://www.affiliatesummit.com/about/