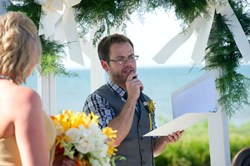 Make sure the Best Man is Tested. Get his speech graded by the professionals at Laugh Staff
Cleveland, OH (PRWEB) July 16, 2013
Laugh Staff announces their new "grade your speech" free wedding service. This offering lets the comedic writers at Laugh Staff review a best man's speech and send a verified report card to the bride providing her with the comfort of knowing that her perfect day won't be ruined by her future husband's frat buddy.
The process for this service begins when the bride submits her email and the emails of the best man or maid of honor to Laugh Staff. Laugh Staff will then notify the honorees that the bride would like them to review their speech. A speech giver is also able to submit a speech on their own, without the bride, for the official stamp of approval.
Once the speech is reviewed, a final report card will be sent to the bride and the speech owner. The report will include an estimated speech length, scale of appropriateness, comedic value, and the interest level.
"The bride has control over everything on her wedding day, except what the best man is going to say. We want to take away the fear of the unknown by giving her a full speech report card," says Laugh Staff co-founder Cameron Amigo. "It's kind of like getting a taste of how well they'll do at the wedding reception before you actually get there. If you are fearful because of the grade given to the speech, you can sign up with our team of professional comedians and writers to ensure your speech is successful. All speeches that pass our grading system will get an official Laugh Staff stamp of approval."
Laugh Staff understands that it is ultimately the best man or maid of honor's speech; they want to help make it the best it can be. With this new service, best men and maids of honor can see how funny or sentimental their speech actually is before reciting it to an audience. It's an opportunity to make sure the best man (or woman) wins.
For more information about Laugh Staff, Inc. and their speech writing services, visit http://www.laughstaff.com or email info(at)laughstaff(dot)com.
About Laugh Staff:
Laugh Staff, Inc. was founded in 2012 by a team of comedians and writers in Cleveland, Ohio. Laugh Staff helps their clients with best man speeches as well as providing best man speech examples on their blog. They assist best men and maids of honor in speech-editing, speech writing, and provide training on speech delivery. Recognizing the importance of the big day, Laugh Staff's professional comedians work with best men and maids of honor to ensure they make a lasting impression.