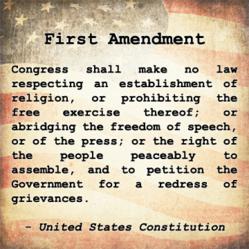 I would rather live in a country with newspapers and without a government, than in a country with a government but without newspapers.
Hudson, WI (PRWEB) July 02, 2013
In honor of America and the First Amendment, Docucopies.com ran a special this week for 15 percent off books and booklets, 20 percent off postcards and labels, and 10 percent off all single jobs over $75. The deal is good til 11:59 p.m. Wed., July 3.
Since the birth of our nation, freedom of the press has been a complex subject. Between the recent controversy over Edward Snowden's leak to the media on government surveillance, the Turkish government's media blackout of protest coverage, or the less recent but still relevant WikiLeaks/Julian Assange dilemma, the role of the media in reporting the facts is always sure to spark debate among scholars, politicians and regular citizens of the world alike.
Out of the many industries and trades which form the fabric of American culture and history, few are so inextricably linked to the American Revolution as the printing industry. As tensions between the colonies and the British government reached their boiling point, newspapers played an important role informing early Americans of what was going on. Publications which had once strove to remain objective in their views began dividing along loyalist and patriot lines, and these papers certainly fueled the fires of the impassioned populace.
Early American politicians recognized the importance of a free press in forming a representative government. While it's well documented that founding fathers such as Ben Franklin and Samuel Adams worked in printing, other founders such as Thomas Jefferson touted the value of newspapers as well, writing:
"I would rather live in a country with newspapers and without a government, than in a country with a government but without newspapers."
In our modern technological world, the Internet has become the new souped-up vehicle of unbridled communication, and with it comes a whole new slough of controversies and legal questions that the founding fathers could never have foreseen.
"We're lucky to live in a country where freedom of speech is highly valued and still well protected," says Docucopies.com's President/CEO David Pressley. "While certain hot button issues will always call into question how far freedom of the press should extend, we believe it's important that communication and information remain uncensored on the Internet, just as it was in the days of our printing industry forefathers. When our First Amendment rights are taken away, the rest are sure to follow."
Docucopies.com has the best prices on newsletters, posters, flyers, postcards, envelopes, books and tons of other products. For more information on their services, visit them online at http://www.Docucopies.com.
For more information on the role of printing and newspapers in revolutionary times, visit http://www1.assumption.edu/ahc/1770s/pprinttoryloyal.html.
Happy Fourth of July from Docucopies.com!