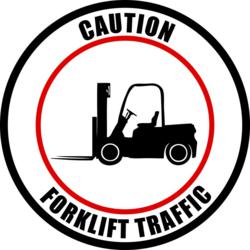 "Accidents from forklifts bumping into each other and near accidents with pedestrians no longer are a problem in our warehouse since installing the forklift traffic signs."
Lake Oswego, OR (PRWEB) July 01, 2013
Warehouses and manufacturing facilities depend on forklifts as a means to move around incoming and outgoing product. Forklift drivers sometimes think they are king of the floor by moving around in all directions without regard to pedestrians that might be in the same area. Creative Safety Supply believes that safety should be top priority in the workplace. They are now offering Caution Forklift Traffic signs that will warn pedestrians and other forklift drivers to be on the alert of moving vehicles.
The industrial-grade vinyl forklift floor signs are durable enough to hold up to the most extreme forklift and foot traffic found in busy warehouses and manufacturing plants. They are easy to install with the no hassle peel-&-stick installation and are available in sizes ranging from 12 inches to 32 inches. These signs have been tested against paint and the findings find the signs are more durable than paint. Paint can peel and crack over time and application requires dry time, cure time, and downtime due to fumes.
Floor signs offered through Creative Safety Supply are pre-printed on industrial-grade vinyl; however, custom floor signs are available at no extra cost. Company logos, texts, and other images can be printed to meet specific needs. Floor signs are a simple solution that can prevent unnecessary accidents, increase productivity, reduce compensation costs, and above all will promote safety awareness in the workplace.
A warehouse supervisor commented, "Accidents from forklifts bumping into each other and near accidents with pedestrians no longer are a problem in our warehouse since installing the forklift traffic signs."
For more information about Caution Forklift Traffic Signs, please visit Creative Safety Supply or call toll-free (866)777-1360 to speak with a professional representative.