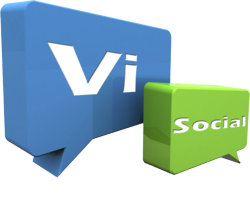 Houston, TX (PRWEB) July 01, 2013
ViSocial is an integrated suite of social marketing solutions delivered through a web-based service model. Key components of the Platform include:
A unique social media management system that helps post, track, and manage any and all social profiles from one location. It's easy to use and sure to help grow social footrpints for businesses and teams. People and companies are to busy to keep up with it all, or don't totally understand social marketing, turn on the exclusive Autopilot™ feature and let the system go to work.
ViPage - Grow sales and business through Facebook. Quickly create unlimited Facebook Pages using automated Facebook Page creator. Pre-built custom templates make it quick and easy to set up and use. Update pages with photos, videos, and even contact forms. It's fast and easy and very powerful.
ViCapture - Create web-based, lead capture pages without the help of tech gurus. The simple set up wizard walks customers through the ready-to-use process. The professional templates allows for personal touches while incorporating promo videos right from YouTube.
ViMeet - A component built to get together anytime, anywhere, and with anyone for online or face-to-face meetings using advanced Meeting presentation system. With built-in voice conferencing and high quality webcam video, online meetings have never been more engaging. Pre-load company approved presentation materials such as presentations, videos, and documents into a presentation library and meetings are always ready to go. There is no complicated installation for attendees. Click on the meeting link and they're in the meeting.
ViLead - Track and manage leads as they come into the system. Convert prospects and expand business with easy one-click emails and drip marketing campaigns. Send pre-formatted messages and sales info to lead contacts. This easy to use marketing system simplifies the routine tasks of campaign management. No one falls through the cracks.
ViText – A revolutionary 2 way text messaging system that allows communication via text message from a web based portal and allow customers and users to contact via text message through a current landline business phone number. The custom designed web portal helps manage and communicate with multiple people at once through the advanced dashboard. Uploading contacts has also never been easier with the click and drag functions of the system.
The company indicated this is the first product launch in a plan to deliver a complete lineup of powerful marketing products geared towards the direct selling and online marketing industries, but has valuable aspects that can and are being implemented in the nation's top producing companies to increase their Social Media presence and increase personal contact with both existing and new customers.
The upcoming product launches will include ViText, ViMeet, ViPage, ViCapture, and ViLead. Currently these programs can be found under one roof in the ViSocial suite but will be offered as standalone products to end users and companies worldwide.
When asked to comment, CEO, Scott Rogers, stated, "Vitel has deployed a powerful online tool that empowers people to market and promote business and personal profiles without having to have a PHD. Fully automated social media management and more, which allows for users to focus on what is needed outside of social media and online marketing."
In the companies short existence, Vitel made waves last year in 2012 being ranked among the top 10 companies by http://www.mlmrankings.com, a third party site that ranks companies based on popularity, for 5 months in a row and even reaching the top 5. Currently Vitel is still ranked in the top 100 by http://www.mlmrankings.com and is also ranked #73 by http://www.businessforhome.org in Facebook Likes and popularity. Vitel attributes this to down to earth, grass roots, approach that focuses on the Independent Business Owner and products that are known, trusted and used daily.
Vi-Tel offers a complete online business opportunity to anyone who aspires to start their very own business. The company offers the latest in wireless, cellular, home services and energy products through the Nation's Top Providers. You can learn more simply by going to their website now at http://www.vitelwireless.com.
Independent Business Owners of Vitel receive a personal replicated website that allows them to market their business online. Their site gives them an online store that enables them to earn commissions for referring customers who purchase from their very own replicated website without having to pay membership dues or becoming an authorized independent Business Owner of Vitel. The availability of all products being located on each independent business owner's site gives business owner customers more choices in one place. One major goal of Vitel Wireless is to create a one stop shop for all your wireless and home service needs. Vitel Wireless is a direct selling company and focuses primarily on taking products and services directly to the consumer through sharing and referring.
ABOUT ViTel Wireless
Vitel Wireless is a leading direct reseller for wireless products and home services. Vitel Wireless is the destination for the best priced wireless products and innovative cell phone reseller programs as well as home of one of the lowest unlimited everything wireless plans on the market today. Vitel Wireless provides business owners their own website to market and sell their products as well as introduce others into their business. The company also provides sales tracking, training, support, direct deposit, and many other business related tools to a vast network of resellers. Vitel Wireless delivers a one of a kind turnkey online business instantly to all new Independent Business Owners.
For more information visit http://www.vitelwireless.com, by phone 877-778-8997, or by ViText at 281-719-9696.