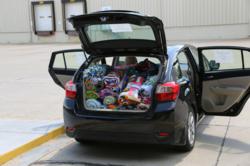 We were amazed and so thankful for the generosity of the quilting community.
Omaha, NE (PRWEB) July 03, 2013
On the afternoon of May 20, 2013, a massive F5 tornado touched down and proceeded to tear its way through Moore, Oklahoma. The tornado's devastating path left 24 dead, hundreds injured, and the community in ruin.
Ayn Taylor, an employee of AccuQuilt, watched in horror at her home in Omaha, Nebraska as the monster tornado cut a deadly path through a town where some of her family lived. All her family members survived but were directly impacted by the tornado's damage.
Taylor felt compelled to help in the recovery efforts. This is why she started the Samuel Quilt Project. The Samuel Quilt Project which was named for the Bible verse 1 Samuel 1:27, "For this child I prayed, and the Lord has granted me my petition that I made to him." AccuQuilt was pleased to partner with Project Samuel on this effort.
Her goal was to try to get as many as 50 quilts donated that she would personally deliver on a June 7 trip to Moore. She hoped the quilts would give children and their family members comfort at a time when the effects of a natural disaster were making everyday life a stressful and frightening experience.
"We were all moved by the devastation," said Steve Nabity, Chief Energizing Officer at AccuQuilt. "When Ayn said she had family there, we wanted to partner with her and her efforts to provide comfort to those in need. Quilts have a way of documenting the lives of those who make and use them, so it was a no brainer that AccuQuilt would be a collection site for the quilts for those affected by the tornadoes."
As the donations started coming in, Taylor and her husband were stunned to realize that instead of 50, they would be delivering over 300 quilts, thanks to an overwhelming response from quilters across the US and Canada.
"It was unbelievable," Taylor said. "We were amazed and so thankful for the generosity of the quilting community. Each quilt will be used for years to come. We're simply happy to be able to do something to help."
Taylor and her husband plan on continuing the Samuel Quilt Project and are currently evaluating where the greatest needs are in areas hurt by natural disasters.
"There is so much damage and loss in these areas," Taylor said. "It's hard to really understand it until you've actually been there and seen it firsthand. A quilt is a work of art, but it also offers warmth and comfort. Some of these people who lost everything need that right now."
About AccuQuilt, Better Cuts Make Better Quilts:
Headquartered in Omaha, Neb., AccuQuilt offers quilters, fabric crafters and retailers a premiere line of fabric cutters, dies, quilting patterns and other quilt and fabric cutting solutions that help quilters quickly and accurately cut shapes for quilting and fabric crafts. AccuQuilt also offers quilters a wide variety of rich educational resources to enhance their quilting experiences. Cutting with AccuQuilt cutters is a natural evolution of fabric cutting methods. "First scissors…then rotary…finally…AccuQuilt" for fast, easy, accurate fabric cutting.