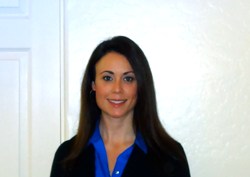 Phoenix, AZ (PRWEB) July 15, 2013
The Law Offices of Michael Córdova is pleased to announce that Meghann L. St. Thomas has joined the firm as an associate attorney.
A graduate of Towson University and California Western School of Law, St. Thomas comes to The Law Offices of Michael Córdova with nearly a decade of experience. She has litigated a broad range of legal issues, including personal injury, wrongful death, government liability, insurance bad faith, RICO, § 1983 civil rights, and real estate breach of contract. She is a member of the Arizona Trial Lawyers Association and the Arizona Women Lawyers Association.
Before joining the firm, St. Thomas was an associate at Treon, Aguirre, Newman & Norris, where she obtained millions of dollars in jury verdicts against local governments, school districts, and municipalities. She also worked on several sexual abuse cases against the local religious institutions. Most recently, St. Thomas has focused on personal injury and wrongful death litigation.
St. Thomas is a member of the State Bar of Arizona and California. She is also admitted to practice before the U.S. District Court for the District of Arizona and the Eastern District of California.
Her invaluable experience with complex legal matters and large personal injury cases make St. Thomas a perfect addition to The Law Offices of Michael Córdova team.
About the Law Offices of Michael Cordova
The Law Offices of Michael Córdova was founded in 1994 by Michael Fairbairn Córdova, a graduate of Harvard Law School. The law firm is one of the leading Plaintiff's law firms in the State of Arizona. The firm handles a variety of injury and accident cases, including construction site accidents, premises liability, tractor trailer accidents, and accidents involving serious injury and wrongful death.