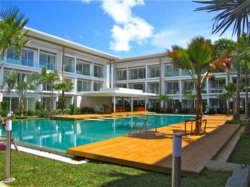 Capital Appreciation on the units has risen by nearly £30,000!
Thailand (PRWEB UK) 2 July 2013
The elegant resort located in Koh Samui was rated as 'highly commended' in both the Development Multiple Units category and the Interior Design Apartment category at the Asia Pacific Property Awards, which took place in Shanghai on the 31st of May 2013.
This world-renowned mark of excellence will boost the reputation of the tasteful development which has already seen a capital appreciation growth of £30,000 since Knight Knox International sold units within the resort in 2011. The apartments were originally sold by the North West investment firm at a purchase price between £38-40,000, but are now being sold by buyers at prices above £65,000!
This rise in capital appreciation has left many clients who purchased the units through Knight Knox International extremely pleased, including, Mr P T Hope who commented on how happy he was with his purchase.
Mr Hope said: "I have bought four properties through KKI over the years and am more than happy with each of them. Two of my projects have been completed and the other two are in construction."
He added: "The LANNA development in particular was an extremely good investment, as the property has now almost doubled in value and is showing a positive return. I took great pleasure in watching the different phases of construction and can honestly say that the initial CGIs do not do it justice!"
About Knight Knox International
Market leaders at selling investment and lifestyle property in both the UK and overseas, Knight Knox International are specialists at selling boutique accommodation to the private investor market
To enquire about Thai properties or the full range of developments available through Knight Knox International, please contact +44 (0)161 772 1370.