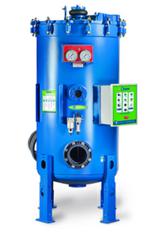 We are pleased to be selected by all of the owners and specified by the designers. Congratulations to all.
Coventry, RI (PRWEB) July 11, 2013
The Neptune-Benson Companies, leading manufacturer of commercial pool filtration systems, UV filtration systems, and aquatics supplies, is a proud supplier of Defender filters and Lawson Aquatics grating to four of the International Dream Design winners.
The award winners include: Ray and Joan Kroc Corps Community Center in Chicago, IL, Ithaca College Athletic and Events Center in Ithaca, NY, J. Leonard Levy Family Wellness Center in Aurora, CO and Yas Waterworld in Abu Dhabi, UAE. The award, presented annually by Aquatics International magazine showcases the best and brightest in aquatic installations. "We are pleased to be selected by all of the owners and specified by the designers. Congratulations to all," says Barry Gertz, CEO of Neptune-Benson.
Neptune-Benson's Defender regenerative media filter is respected as the industry leader with 1000 installations worldwide. The Defender removes over 99.9% of crypto in a single pass and can remove particles down to 1 micron or less. When paired with the ETS-UV filter, the results are unsurpassed.
About the Neptune-Benson Companies
About Neptune-Benson
Neptune-Benson is the leading manufacturer of filtration systems for aquatic centers, waterparks and aquatic life support. Featuring the award-winning Defender® Regenerative Media Filter, Neptune-Benson also offers steel & fiberglass sand filter systems; the AEGIS anti-entrapment shield; fiberglass movable bulkheads; Dominion butterfly valves; Guardian strainers and other accessory products, creating the World of Aquatopia Since 1956. See: http://www.neptunebenson.com
About Engineered Treatment Systems LLC -ETS
Based in Beaver Dam, Wisconsin, Engineered Treatment Systems LLC is a leader in the development and manufacture of UV systems, specializing in closed vessel UV technology. Our world class UV systems offer treatment solutions for a range of uses from recreational water to municipal and a wide variety of industrial applications. With advanced technology and a wealth of experience, ETS has the expertise to provide effective and cost efficient solutions for a broad range of industry needs. See: http://www.ets-uv.com.
About Lawson Aquatics
Founded 1994 as Grate Technologies, Lawson Aquatics was incorporated under its current brand in 2002 with a focus on meeting the design and functional requirements of rim-flow grating systems for commercial, institutional and luxury residential pools and aquatic facilities. The Lawson product catalog has evolved and grown over the years adding a wide variety of high quality PVC and fiberglass components including grating systems, main drains and sumps, and custom fabricated products. Today, Lawson Aquatics is the recognized leader in providing the global aquatic industry with complete, integrated main drain and rim-flow system components. See: http://www.lawsonaquatics.com