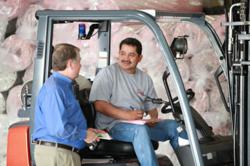 "I think it's got to help to have chaplains here. It's critical to retain the right people and that's where chaplains come in," Encore Wire CEO Daniel Jones.
Dallas, TX (PRWEB) July 01, 2013
Employee talent management and retention continues to be one of the pressing issues workplace leaders are facing in the second half of 2013, vital to innovative company CEOs who are addressing this with workplace chaplains.
"One thing that is striking about the list (of 2013 issues) is how many of these are employee relations/compliance issues," said Peter Cappelli, Director of the Center for Human Resources at the University of Pennsylvania's Wharton School in a recent speech. "If you take that away, the rest is all talent management. This suggests something about what the world of HR is about these days." http://www.bna.com/talent-management-among-n17179871839
With an increasingly mobile society, employees these days are looking to move on a regular basis, always on the lookout for a better position, often costing companies millions in hiring and retaining new employees.
Encore Wire Corporation CEO Daniel Jones has seen the problem up close and personal in his multi-million dollar publically traded company (WIRE), which has used Marketplace Chaplains as part of their strategic initiative for more than a decade.
"I was talking to my vice president of administration just today about how hard it can be to find and keep good employees," Jones said. "I always bring up our wide-range of benefits and especially our chaplains who help the employees and their family members."
Marketplace Chaplains is the country's largest and original chaplains' service, where more than 2,700 chaplains serve in 23 various types of business industries in more than 3,000 client company locations, across 44 states and 983 cities, serving the needs of over 540,000 employees, and their family members, through care and compassion.
In order for Jones' company to even consider hiring an employee, they spend $1,000 on pre-employment testing, along with an extensive training program.
"Many of our wire designers are still in training for up to a year. That's why it's critical to retain the right people and that's where the chaplains come in, they help employees in need."
Marketplace Chaplains works with employees in good times and bad, operating under the core principles of confidentiality, voluntary contact with employees and non-religious denominationalism.
"I think it's got to help to have chaplains here. I think it's a no brainer," Jones said about his more than 1,000 employees in his McKinney, Texas, headquarters.
Marketplace Chaplains' President and COO Richard S. De Witt said, "Daniel Jones joins with many other forward thinking CEOs providing long-term workplace care to help produce long-term employees. CEOs know it's always better to keep an excellent employee through workplace chaplains than spending thousands to find another one."
For more information on this benefit which has been featured on NBC Nightly News, CNN, and in the Washington Post, the New York Times and Bloomberg BusinessWeek, visit http://www.mchapusa.com.
To arrange an interview with a Marketplace Chaplain contact Art Stricklin, Vice President Public Relations, at artstricklin(at)mchapusa(dot)com or call 1-800-775-7657.