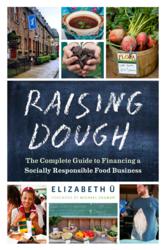 Elizabeth Ü has created a formidable one-stop guide to... building a successful sustainable food business. For everyone who's ever wanted to turn their passion for sustainable food into a thriving business, this book is for you. —Anna Lappe
Burlington, VT (PRWEB) July 01, 2013
Increasingly, food-based businesses are seen as key solutions to solve our social and environmental problems, and yet entrepreneurs report a surprising lack of access to money to help them get started or grow.
Elizabeth Ü's Raising Dough: The Complete Guide to Financing a Socially Responsible Food Business is an unprecedented guide that provides social entrepreneurs—as well as their potential supporters—the tools necessary to enable more of these businesses to launch and thrive.
Social-finance expert Ü explains what every budding entrepreneur should do even before they begin asking for money, including choosing an appropriate ownership model. She covers a wide range of possible funding sources, from traditional public and institutional grant and loan programs to cutting-edge, community crowdfunding models.
Case studies detailed throughout Raising Dough serve as a real-life guide for business owners and investors. Additionally, the book includes an extensive resource section of business planning and membership networks, funding sources, and more.
Raising Dough provides valuable and unique insights into the world of finance that will:

Increase awareness of the full range of funding options available to support sustainable food businesses;
Help determine what it takes to successfully access the appropriate types of funding;
Boost confidence in speaking about money and finance with different types of investors; and,
Reveal additional resources to help raise money for social ventures, and manage them for the long-term.
Written primarily for people managing socially responsible food businesses, Raising Dough includes resources, strategies, and lessons that can benefit any socially minded entrepreneur and those who would support them, including investors.
"Chances are good that you're reading this book because you're a farmer or local food entrepreneur looking for money," Michael Shuman writes in the Foreword. "Or you might be an investor looking to place your money in a local food business. Or perhaps you're just interested in learning about how to start a food business. Or maybe you've just heard that this is a tremendous resource for anyone interested in local investing. Whatever your mission, prepare for a feast ahead."
Elizabeth Ü is available for interviews upon request.