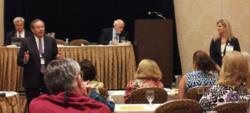 I was following (the Dale Earnhardt story) as a fan, never realizing it would have any impact on my mediation practice.
Boca Raton, Fla. (PRWEB) July 01, 2013
John Upchurch and Sandra Upchurch, both of Upchurch Watson White & Max Mediation Group, recently bookended their advice to fellow Florida mediators with the story of how Mr. Upchurch brought a case that enthralled NASCAR fans to a creative and successful settlement.
Appearing at the Florida Bar Annual Convention here on Wednesday, June 26, 2013, Mr. Upchurch set the scene of the days following the death of stock-car racing legend Dale Earnhardt in the final laps of the 2001 Daytona 500. "I was following it as a fan," he said, "never realizing it would have any impact on my mediation practice."
The account was intended to demonstrate, among other concepts, that mediation is far better equipped than the court system to find and apply resolutions that are not necessarily equitable or money-related remedies, but that address the deepest needs and interests of the parties.
After Mr. Earnhardt's death, Orlando Sentinel sportswriter had tried to acquire Earnhardt's autopsy records, particularly photos, to study as part of an in-depth look at NASCAR safety measures, Mr. Upchurch recalled. At the time, these documents were considered part of public record in Florida, but Earnhardt's widow, Teresa, petitioned Judge Joseph Will to seal them, according to The Chicago Tribune in a March 1, 2001, article by Stephen Nidetz and a book by Mr. Hinton, "Daytona: From the Birth of Speed to the Death of the Man in Black," published Nov. 1, 2002. The judge granted a temporary restraining order against the media outlets that had joined in the effort to gain access.
Seeing his courtroom bristling with sportscasters, the judge turned away from litigation and took another course. "John, what are you doing this afternoon?" Mr. Upchurch recalled Judge Will's asking him on the phone.
The focus then shifted to Upchurch Watson White & Max's Daytona Beach, Fla., offices, where Mr. Upchurch ascertained "a single court-appointed expert might be able to examine the photographs for the benefit of scientific interests" -- not for publication, as Mrs. Earnhardt had feared. Further, the expert needed to have a PhD in biomedical engineering, expertise that was not readily available.
"Thank goodness for the Internet, even in 2001," Mr. Upchurch said. Adding details to a March 19, 2001, story in The South Florida SunSentinel, he remembered how, through online searches and other digging, the mediation group located Dr. Barry Myers, an expert on crash injuries at Duke University, to perform an independent study of Mr. Earnhardt's death. The news was announced at a joint press conference in Upchurch Watson's parking lot.
Myers' published report was contrary to NASCAR's original explanation, which blamed the death on a broken seat belt, according to a Sept. 10, 2001, CNN-Sports Illustrated article by Mike Fish. He found the driver's death was the fault of inadequate head and neck restraints that allowed Mr. Earnhardt's head to snap forward, independent of the condition of the seat belt
The following developments came in the wake of Dr. Myers' conclusion and a NASCAR investigation:
-- Airline-style black boxes were mandated for all NASCAR race vehicles to further experts' understanding of the forces at work during a crash, as described in a March 19, 2002, USA Today article by Chris Jenkins;
-- HANS devices (Head and Neck Support devices, also known as a head restraints) became required NASCAR equipment, as described in a June 29, 2013, Florida Times-Union article;
-- And Florida law actually changed to limit access to autopsy records without the express permission of the deceased's next of kin, according to Associated Press writer Mike Branom in a May 23, 2002, article.
Changes in state law that are more recent and many other issues were discussed at dozens of sessions at The Florida Bar Annual Convention though the morning of Saturday, June 29.
About Upchurch Watson White & Max: A nationally leading mediation specialty firm, Upchurch Watson White & Max is known for facilitating reasonable agreements to resolve complex issues. From five offices in Florida and Alabama, Supreme Court certified attorney mediators with wide-ranging specialties serve as court-appointed and privately employed mediators, arbitrators and third-party neutral case managers, implementing innovative methods of alternative dispute resolution across the country. On the Web: uww-adr.com.