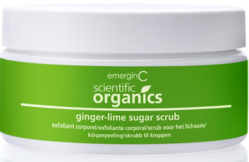 Guaranteed to offer relief to dry, rough skin and uneven tone and texture .
Sydney, Australia (PRWEB) July 05, 2013
As the Southern hemisphere starts to slowly shed the first signs of the Winter blues, emerginC has come to the rescue with the launch of its new Ginger-Lime Sugar Scrub guaranteed to offer relief to dry, rough skin and uneven tone and texture .
With blend of sugar, coconut oil and sweet almond oil, the Ginger-Lime Sugar Scrub works at exfoliating dead skin cells that sit on the top of the skin promoting a healthy and youthful glow.
Rich in essential vitamins and fatty acids, Coconut oil alleviates dryness and flakiness and its antioxidant properties soothe and soften the skin.
Sweet almond oil boosts the overall effectiveness of the scrub with its phytonutrients working to balance moisture levels and protect the skin from harsh external conditions.
Ginger-Lime Sugar Scrub can be incorporated as a weekly treatment by gently applying the product to the skin in small, circular motions, adding water as needed. This method of exfoliation can greatly assist in reducing the appearance of cellulite as well as promoting a healthier circulation.
For more information about emerginC and Scientific Organics, go to http://www.inskincosmedics.com or call Inskin HQ on 02 9712 8188.