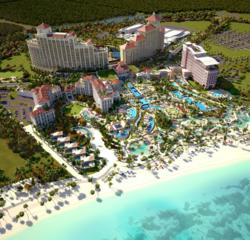 Nassau, The Bahamas (PRWEB) July 03, 2013
An elite collection of 307 private residences at Baha Mar, the $3.5 billion luxury resort located in The Bahamas, is now available for purchase. Set along more than half a mile of white-sand beach and crystal-clear, turquoise water, Baha Mar will encompass four luxury hotels - Rosewood Hotels & Resorts®, Mondrian, Grand Hyatt and the centerpiece of the resort, The Baha Mar Casino & Hotel.
For those seeking an authentic Bahamian experience, the ultra-luxurious Rosewood Residences® at Baha Mar, with a choice of one, two and three-bedroom homes and four-bedroom beach villas, is the ideal choice. The 92 residences take full advantage of the proximity to the crystal-clear water with private terraces and unmatched views. Rosewood residence owners and guests have exclusive access to private lounge and pool areas and the intimate Sense® spa.
Mondrian at Baha Mar offers 107 distinctive designer one, two and three-bedroom residences that perfectly capture the quintessential lifestyle of The Bahamas with a pervasive sense of magic, glamour and excitement. Each of the stunning residences with private terraces is an exercise in urbane chic with a hint of Mondrian creativity and playfulness coupled with the relaxed style of the islands. Residence owners will appreciate the private pool and lounge areas at the Mondrian at Baha Mar and have access to the ESPA destination spa, one of the most complete spa experiences in the Caribbean.
Grand Hyatt at Baha Mar includes a state-of-the-art convention center featuring a performing arts center and an art gallery. This property also offers 85 one, two and three-bedroom residences, all with private terraces and appointed in the signature Grand Hyatt style – calming and sophisticated contemporary décor in an earthy palette, and most homes with spectacular ocean and waterway views.
The Baha Mar Casino & Hotel features a magnificent 100,000 square-foot casino rivaling the best in Las Vegas and Macau. The hotel also offers 1,000 rooms with luxurious amenities and contemporary furnishings for those wishing to be near the action at the hottest new property in the Caribbean.
Residence Club members may enjoy Baha Mar's bespoke concierge services, including a personal concierge to book tee times, make dinner reservations, arrange spa bookings and help plan local excursions prior to arrival.
Residences are priced from $1.5 million and may be rented to offset costs and to take advantage of incentives offered by The Bahamas Government while maintaining up to 90-days of personal usage per year. Alternatively, owners may elect to keep the residence for their exclusive use. Owners electing to rent their residence may be eligible for significant tax benefits. Real estate ownership in The Bahamas is deeded freehold at Baha Mar and offers significant flexibility. Eligible Residence Club Members renting their units will enjoy a number of tax advantages related to ownership such as rental income free from Bahamian taxes and tax-free Bahamian capital gains on property resales. Additionally, all stamp tax, duties and levies as well as annual real estate taxes are waived while in the rental program. Owners at Baha Mar will also have the opportunity to apply for Permanent Residence status in The Bahamas, a sovereign nation, allowing access to private banking services in The Bahamas. Prospective purchasers should consult with their tax advisors to determine how these privileges may apply.
About Baha Mar:
Baha Mar, scheduled to open in December 2014, is set on 3,000 feet of white-sand beach just 12 minutes from Nassau's newly expanded Lynden Pindling International Airport. The resort will feature an elite collection of hotel brands with gaming, entertainment, shopping and natural attractions that reflect an authentic Bahamian experience. The Baha Mar Casino & Hotel, with 1,000 rooms, is the centerpiece of the resort, and includes a 100,000-square- foot Las Vegas-style casino – the largest in the Caribbean region. A 700-room Grand Hyatt, a 300-room Mondrian, and the 200-room Rosewood Hotels & Resorts® complete the extraordinary accommodations at Baha Mar.
Amenities will include the 18-hole, 72-par championship Jack Nicklaus Signature Golf Course at Baha Mar, 200,000 square feet of combined state-of-the-art convention facilities including a 2,000-seat performing arts center and an art gallery with the largest curated collection of Bahamian art; more than 30 restaurants, nightclubs and bars; two unique spas, including the 30,000-square-foot destination ESPA at Baha Mar; designer retail boutiques, a beachfront sanctuary with native Bahamian flora and fauna, 14 distinctive pool experiences and a private island.
For more information, please visit http://www.bahamar.com
These materials do not constitute an offer to sell, or a solicitation of an offer to buy to residents of any jurisdiction, including the United States, in which registration is required or where other legal requirements in such jurisdiction have not been fulfilled. All illustrations are artists' conceptual renderings that may not reflect the project as currently designed or as may ultimately be constructed and are subject to change without notice. The Baha Mar Project (and the residency component) is owned, offered, marketed, sold, constructed and developed exclusively by Baha Mar Ltd. NOT by Rosewood Hotels and Resorts, L.L.C.; Morgans Hotel Group Management LLC; or Hyatt Corporation; or any of their affiliates (the "Brands"). Baha Mar's right to use the Brands' Trademarks or trade names ("Intellectual Property") is by specific agreement with the Brands and NO purchaser or any community association constituted with respect to the residency component shall have any right, title or interest in such Intellectual Property. Any purchase of a residence should be for personal use and enjoyment and should be without reliance upon any Brand identification or potential for future profit, rental income, economic or tax advantages. No legal or financial advice is being offered and purchasers are solely responsible for determining whether any investment is appropriate or suitable based on personal investment objectives and financial status. No warranty or guarantee is made concerning eligibility for permanent residency and/or citizenship and in all cases specific inquiries should be made to the relevant agency. All illustrations are artists' conceptual renderings (or photographs included for illustrative purposes only) that may not reflect the project as currently designed or as may ultimately be constructed and are subject to change without notice. English shall be the controlling language regarding interpretation. Visit http://www.bahamar.com for complete disclaimer.