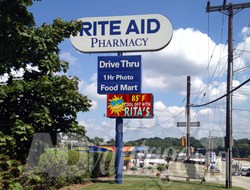 "LED signs help you take advantage of the impulse buyer;...potential consumers see those ads and make a sudden decision to pull in and buy," Richard James, ADvantageLED Signs.
Houston, TX (PRWEB) July 15, 2013
ADvantage LED Signs spokesman Richard James recently announced the completion of another successful LED sign installation in Pittsburgh, PA. The sign, installed for Rita's Italian Ice, is being used to draw in customers off the street instantly with unique graphics and advertisements about products offered.
According to James, the new ADvantage LED Sign is a 4'-2 1/4" x 8'-1 1/2" 12.5mm iPixel Full Color 96x192 iMatrix Double Face Display. James explains, "the new sign will do wonders in attracting new business. LED signs have a proven ROI that is unmatched by any other advertising method for a restaurant." Rita's Italian Ice Franchise Owner, Jim Mincin, says that the sign was a great investment. Although he has only had his sign installed for about a year, he can already see the potential it has for his business. Overall, he says the sign is fantastic and knows he made a smart decision choosing an ADvantage LED Display.
ADvantage LED Graphic Designer Taylor Endecott had this to say, "We are always available to any customer in need of designing assistance. What's great about Rita's is they are always open to suggestions. This helps get the most effective advertisements and the results are obvious to the business." She added, "I look forward to our future collaborations and learning what else we can do to help Rita's Italian Ice flourish."
James says restaurant LED signs are a fast growing segment of advertising and marketing for the restaurant industry. James adds, "The importance of traffic and your location plays a vital role in your business' success. More and more restaurant LED signs can be seen around the United States. McDonald's, Burger King, KFC, and more have moved toward LED signage as their on-site marketing tools. If the billion dollar franchise organizations are turning to an LED sign for their on-site advertising, then you know it's a proven return on investment. LED signs can advertise your specials for pennies a day compared to newspaper and television. Plus, the specials can be changed daily as needed easily by any of the employees."
James continues, "People driving by may not even intend to stop in, but LED signs help you take advantage of the impulse buyer. The signs show graphically intriguing specials offered by the business, potential consumers see those ads and make a sudden decision to pull in and buy. The LED sign advantage has proven returns."
About ADvantage LED Signs:
Established in 2009, ADvantage LED Signs is a US manufacturer of LED signs and LED Billboards, selling direct to businesses and organizations nationwide. ADvantage LED Signs operates as a total turn-key solution provider, stating that no job is too big or too small.