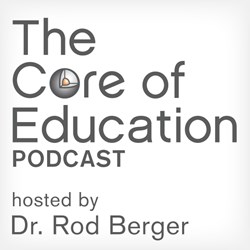 It is exciting to share in the vision of these Edtech leaders
(PRWEB) July 01, 2013
Today, Core of Education announced plans to produce a weekly syndicate of 11 interviews with leaders from last week's ISTE 2013 conference. The International Society for Technology in Education (ISTE) represents over 100,000 education and emerging leaders globally with the goal of advancing the effective use of technology in PK-12 and teacher education. The ISTE conference this year, which ran from June 23-26th at the Henry B. Gonzalez Convention Center in San Antonio, TX, was attended by over 13,000 education enthusiasts.
During the convention, Dr. Berger conducted 11 eye-opening interviews in a series surrounding the innovations sweeping education. Interviews will be posted weekly and provided at no cost on the Core of Education.
Dr. Berger's formidable group of guests include:
· Jose Ferreira, CEO of Knewton
· Pat Wasley, CEO of Teaching Channel
· Greg Estell, President of Education at SMART Technologies
· Andy Frost, V.P. of Product Management at Edmentum
· Buzz Waterhouse, CEO of McGraw-Hill Education
· Abigail Fern, Marketing Director for LEGO Education
· Lory Pilchik, C.M.O. for Teachscape
· John Harrington, CEO of Funds for Learning
· Leah Osterman, Executive V.P. of Marketing and Business Development for StudySync
· Nick Smith, Marketing Manager for Learning.com
· Dave Gladney, LRMI Project Manager at the Association of Education Publishers
All podcasts are located here.
"The Core is excited to utilize its platform in voicing the visions of these edtech leaders," says Dr. Rod Berger, host of the Core of Education. "I'm looking forward to providing this exclusive content to my audience."
About the Core of Education
The Core of Education located in Nashville, TN brings you the best and brightest in eduction. The Core's podcasts work to provide a platform for open, honest discussion and debate on education challenges and triumphs. Host of the Core, Dr. Berger, interviews international policy makers, ed entrepreneurs, state commissioners, district admins and teachers and strives to insure that everyone involved has a platform to learn, and that's what's at the core of education.