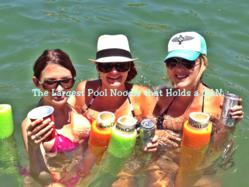 It's not enough to CanUdle, It's EVERYTHING!!
Waynesville, OH (PRWEB) July 01, 2013
CanUdle is the largest pool noodle available and measures at a whopping 4.5" in diameter. The amazing thing about the Canudle is that it holds a CanUzie in one end that will hold your choice of beverage, Red Solo Cup, water bottle, any cans and even bottles all while keeping it cold and allows for a hands free experience. Being called a necessity for any and all water lovers.
CanUdle.com announces that it has gained its own market share and continues to be known as its own personal pool waiter. CanUdles are proud that we can say "Made in America" and they are made with FDA approved food dyes so they are very safe for children and dogs.
The creator of the CanUdle, Leslie Darling Tatman, says, "Since creating the CanUdle, buzz around the lakes and pools is phenomenal and people say they always thought of doing this and so glad someone finally made an over-sized pool noodle that will hold up to 275 lbs. without sinking and that it holds a drink. It only takes one of our CanUdles compared to the other wimpy, small pool noodles. This is when Size Does Matter. It's not enough to CanUdle, It's EVERYTHING."
CanUdle is seeing a large percentage of return wholesale and retail customers as this product is ranked as being of the highest quality, innovative and best pool noodle on the market. CanUdle also saw a need for over-sized regular pool noodles for certain applications. Those can be used for baby bumpers, crib railing protectors, out rigging for kayaks, roof racks, etc. The imagination is unlimited due to the size. These are called the Mighty Pool Noodle.
Case Quantities of CanUdles can now be shipped nationwide. Purchases can be made directly from the CanUdle website CanUdle also sells wholesale.
Founded in late 2012, Canudle is a woman owned business that was founded to provide the ability to float in the water hands-free, while simultaneously enjoying a cold beverage. We love the water and we love the idea of providing fun products to those that have an excitement for water, swimming and fun with friends and family.