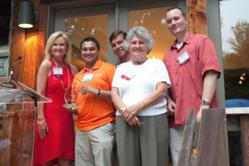 We are thrilled to be recognized by the NVTC for this award. This award is tremendous recognition of our staff's dedication to supporting our Federal customers and I am especially proud to be associated with other great companies in the Northern Virginia
McLean, VA (PRWEB) July 01, 2013
This annual award recognizes the Washington, DC metropolitan region's leading fast start government services providers. It celebrates the efforts of entrepreneurial companies in the northern Virginia technology community who have exhibited that special something that makes them 'Hot Tickets' - great vision, the ability to implement and deliver, innovative management approach or star-quality charisma. NVTC is the membership association for the technology community in Northern Virginia, representing over one thousand companies and their 200,000 employees.
"We are thrilled to be recognized by the NVTC for this award. This award is tremendous recognition of our staff's dedication to supporting our Federal customers and I am especially proud to be associated with other great companies within the Northern Virginia area," said Mehul Sanghani, CEO and President of Octo Consulting Group.
Twenty firms were nominated this year for the NVTC's Hottest Emerging Government Contractor award. To be eligible, half of their revenue must come from government contracts with total annual revenue no greater than $50M. The award period recognizes achievements over the last calendar year. Judging criteria included significant achievements to date; strength of the leadership team; innovative products and solutions; business strategy; customer successes; and plans for future growth.
About Octo
Founded in 2006 as a fresh alternative to the traditional consulting firm, Octo Consulting Group is an SBA certified 8(a) small business and is a leading provider of technology and management consulting services to the Federal government. Our approach frees consultants to deliver the results IT leaders in government and business need to improve performance and accomplish their missions. Ultimately, it translates into faster timelines, lower costs, intelligent solutions, measurable outcomes and happier people. The most critical part of Octo's adaptive approach is empowering our consultants to make the right decisions for our clients. While we provide them with starting points, frameworks and tools, true success depends on them using their talents to find the solutions needed to deliver results. Octo now works with over 25 government agencies and has enjoyed substantial year-over-year growth largely due to a client retention rate of over 97%, and Dun & Bradstreet Open Ratings of its past performance that rank the firm in the top 10% of all businesses for its customer satisfaction. Core practice areas agile software development, data visualization, architecture and strategy, and acquisition engineering. For more information, visit http://www.octoconsulting.com.