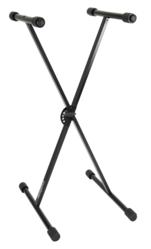 Petaluma, CA (PRWEB) July 01, 2013
Leading music accessories manufacturer Strukture announces the official launch of the new SK100-KD Keyboard Stand. The SK100-KD is designed as the best single-braced keyboard stand on the market, and delivers exceptional value to musicians. In keeping with the Strukture mission to be the one-stop source for everyday music accessories, the SK100-KD is a high quality, highly functional stand.
The SK100-KD Keyboard Stand is crafted from heavy duty steel for ultimate durability, and features an easy to use clutchless spring-loaded height adjustment pin. The single braced design conveniently breaks down with a single allen wrench for transport or storage. Rubber caps on the feet adjust to uneven surfaces to provide stability, and each stand is completed with a gloss finish for a durable, modern appearance. This stand is an ideal solution for medium to full size keyboards, as well as DJ and other sound equipment.
With an MSRP of $39.95, the SK100-KD is is priced within reach and now available through music dealers nationwide.
Visit us at http://www.strukturemusic.com to learn more, or visit your local dealer today!
Strukture is a premier manufacturer of music accessories including keyboard stands, keyboard benches, cables, music stands, guitar stands and parts. Strukture is dedicated to designing products that fulfill the needs of all musicians, from students to professional touring artists.