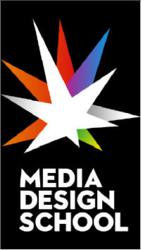 Auckland, New Zealand (PRWEB) July 03, 2013
Darryn Melrose was most recently CEO of M&C Saatchi and prior to that was CEO of AIM Proximity.
Darryn brings more than 15 years of experience in the digital and mobile economy to his role at Media Design School. Previous CEO Frances Valintine is transitioning from her existing role to assume a strategic visionary position as chair of the newly established Media Design School Strategic Advisory Board.
In other changes, Fionna Scott is now Chief Academic Officer. In this role, Fionna will continue to drive innovation in the development of qualifications aligned to industry and economic need, high quality academic programme delivery, and supporting employment outcomes for students. Fionna joined Media Design School as Dean of School in 2011, and in this time has achieved the accreditation and introduction of four bachelor degrees.
Jackie Young has also been appointed Executive Director Marketing and Recruitment. Jackie will take on expanded global brand and marketing responsibilities for Media Design School while continuing to drive marketing and recruitment in New Zealand and internationally. Under her management, the school has been recognised for digital marketing effectiveness and innovative use of social media. Jackie joined Media Design School in 2011 as Marketing Director and has overseen the go-to market-strategy and product transition to degree-level qualifications.
"We are pleased to have Darryn join Media Design School as its new CEO," said Vivian Sanchez, CEO of Laureate Art, Architecture & Design Education. "Darryn is the perfect candidate to lead Media Design School in its next stage of development. His commitment to our mission, innovative approach to leading strategic expansions and understanding of the global digital space will have a significant impact on the future of Media Design School."
Darryn believes Media Design School has the reputation, quality and industry connections to be the number one digital design institution in the world. "Our students, faculty, staff and alumni make Media Design School a formidable force in higher education—not just in New Zealand, but worldwide," said Darryn. "I'm looking forward to working with the dedicated, world-class team of people here and throughout the Laureate International Universities network, and to building on our outstanding achievements."
About Media Design School
Media Design School is New Zealand's most-awarded private tertiary institution and distinguished by its close alignment to industry. The Auckland-based school offers specialist degrees for emerging creative industries including Bachelor of Art and Design (3D Animation and Visual Effects), Bachelor of Creative Technologies (Game Art), Bachelor of Software Engineering (Game Programming) and Bachelor of Media Design. A range of foundation diplomas and graduate qualifications are also available. Media Design School is part of Laureate International Universities, the world's largest private university group with over 65 universities in 29 countries, including dedicated design schools in San Diego, California, and Santa Fe, New Mexico, USA; Berlin and Hamburg, Germany; and Milan, Italy.