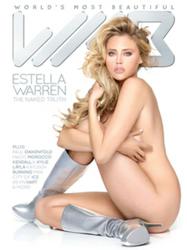 Los Angeles, CA (PRWEB) July 01, 2013
With its striking photography and insightful editorial content, WMB 3D: World's Most Beautiful introduces its readers to the world's most beautiful places, people, fashion, luxurious toys, and entertainment. And with WMB 3D's free mobile app, readers can take their favorite stories and photos with them wherever they go. The magazine captures the third dimension of beauty using the custom-engineered Saglimbeni3D camera system, which allows WMB 3D: World's Most Beautiful to display each pictorial spread and advertisement in stunning 3D fashion, using anaglyph 3D glasses.
In 2012, WMB 3D creator Nick Saglimbeni was given awards by both Sony and NVidia for his innovations in 3D photography. Saglimbeni says, "I was inspired by the way 3D was successfully used in movies like Avatar, and I wanted give people a chance to see the real world in a new way."
The upcoming issue is already receiving buzz because of its controversial cover beauty, supermodel Estella Warren.
Cover: Estella Warren
Actress and model Estella Warren graces the third issue cover. Warren started her modeling career at age 16 when she was photographed by famed photographer, Ellen Von Unwerth in a fashion editorial for Italian Vogue. Warren's face soon began showing up in highly recognizable global campaigns, such as Chanel No. 5. Hollywood also took notice and quickly beckoned the actress with big film offers.
Fashion: Kylie & Kendall Jenner
At one time, Kendall and Kylie Jenner, were best known as the younger two siblings of the Kardashian empire. Now, these rising stars are building a brand uniquely their own.
Legend: Paul Oakenfold
The London-born and now Los Angeles-based DJ and music producer played pivotal roles in the shaping of electronic dance music history and it's culture. In this raw interview, Oakenfold chronicles the evolution of EDM and predicts its future.
Male Actor/Comedian: Kevin Hart
Kevin Hart continues to amaze with his ever-evolving talents. Known for his endless entertaining, Hart discerns humor on all levels, whether it's taking stabs at his own shortcomings or poking fun at the chilling dynamics of his upbringing.
Also featured in the upcoming issue:
Female Actor/TV Host: Layla Kayleigh
Model: Nazanin Mandi
Travel: Burning Man, Morocco & China: Harbin
Supercar: Bentley Continental GTC
Great Gifts
WMB 3D's Biggest Fan: Megan Retzlaff
Where It's Sold:
WMB 3D is currently available in print at wmb3d.com and at selected Barnes & Noble retailers nationwide. The free WMB 3D app is available in the iTunes App Store and in Google Play (content sold separately). Issue 3 is available digitally for $4.99. A portion of profits from every magazine sold will be donated to charity.
For more information on World's Most Beautiful, please visit http://www.worldsmostbeautiful.com 
For the full press release and images, please visit: http://www.worldsmostbeautiful.com/media/WMB_media_alert_issue3.html
Media Contact:
Joyce Park
pr(at)slickforce(dot)com
Office: +1.213.489.9309
http://www.wmb3d.com