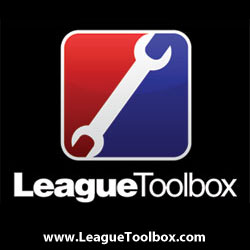 One of the most sought after features from all our leagues was a scheduling tool.... and we delivered!
(PRWEB) July 01, 2013
"We have made some great new additions to our already outstanding features within our league management software and improved existing features that are making sports leagues around the US and Canada experience some amazing savings in administrative costs." Chad Theriault President of LeagueToolbox is obviously very proud of his organizations continued growth.
"LeagueToolbox really has set the standard in league management software solutions," Theriault commented. A perfect example of this is their new custom PDF forms that are now available to all leagues.
Auto-fill custom PDF Documents and scoresheets for leagues that require print copies of certain documents. "This feature is a lifesaver," stated Chris Christie of LeagueToolbox.com.
"Leagues can map any data they gather during online registration to any uploaded PDF document. Then print some or all of the documents with one click."
"One of the most sought after features from all our leagues was a scheduling tool.... and we delivered!" a smiling Christie stated.
The AutoSchedule feature will create an entire schedule in minutes. What would take hours and many erasers is now handled by this amazing tool.
"Simply tell the system the number of games, length of games and the availability of your resources and the system will instantly create the complete schedule for you."
"You can also make any custom changes to your schedule as needed and then "Publish" your schedule, " said Chris.
And for those leagues who join LeagueToolbox after their schedule has been completed, no problem says Christie. They have a built in import tool to make everyone's life easier.
"In addition, whenever you add or modify a scheduled event the system will instantly update all of the league and team websites to reflect the change. Parents and players can download and subscribe to their own team calendars via iCal so their personal calendars will always be up to date."
Chris is very excited about the current features and what is yet to come, "These are just a couple of the features and upgrades we are announcing on top of the LeagueToolbox App, GameDay, that we launched in April which can be found for Android and iPhone. We have even more announcements coming in the next few weeks that we are extremely excited about."
Find out more about this league management solution at http://www.LeagueToolbox.com.