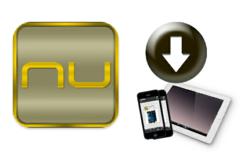 Fremont, Cali. (PRWEB) July 05, 2013
NuForce, Inc., a leader in professional and consumer audio gear, introduces the NuForce HD Player, specifically engineered to maximize the acoustic properties of NuForce's award-winning earphones and headphones for a truer-to-the-source listening experience. The NuForce HD Player's state-of-the-art digital signal processing (DSP) algorithms address the transfer functions of NuForce's earphone and headphone models in order to achieve a wide, well-defined, tonally accurate – in short, a thoroughly astounding soundscape.
The NuForce HD Player incorporates Dirac HD Sound, developed by the Swedish firm Dirac Research, whose technologies have implementations in cinemas, music studios, and the audio systems of world class automobiles. Dirac Research specializes in digital sound optimization. The company was founded in 2001 by researchers from Uppsala University, an institution of higher learning that has produced eight Nobel Prize laureates.
Specifically, Dirac HD Sound represents a new approach in aural optimization by ensuring that a sound's every feature is faithfully reproduced in terms of level, timing and duration – an innovation that can only be achieved by tuning a specific earphone model together with its associated iOS device, as an integrated system. This level of implementation and coordination exceeds by far that of conventional analog EQ methodologies or gimmicky digital sound effects.
The graph below illustrates the Impulse Response, before and after Dirac optimization, of the NuForce NE600X, the recipient of WIRED's Top-Three earphones award, and the NE-700s earphones, honored with several Editor's Choice awards for best-in-class performance and value. Briefly, the Impulse Response is a carefully detailed measurement indicating a sound device's accuracy. By reducing the transducer's ringing, i.e., its settling time, Dirac processing yields a more life-like sound by way of an enhanced low end, overall authority and dynamic speed.
Benefits
−Genuine Sound Optimization: The HD Player is precisely tailored to the acoustic properties of NuForce earphones and headphones.
−Familiar Functionality: The HD Player employs the functionality the user is already accustomed to from his or her iPhone's music player.
−Sound Quality: The HD Player overcomes problems relating to acoustic resonances, resulting in heightened clarity and a richer low end.
Compatibility:
*The HD Player specifically coordinates with NuForce NE-600, NE-650, NE-700, NE-770 and HP-800 headphones and earphones.
*The HD Player utilizes the iTunes music library.
*Note: the HD Player does not support DRM-protected music, nor does it fully support iTunes Match and iTunes in the Cloud.
Pricing and Availability
The NuForce HD Player is available from the App Store for a promotional price of $0.99 USD. This offer expires at the end of July, at which time the price will be $1.99USD.
About NuForce
Based in Fremont, California, NuForce first gained acclaim for its patented audiophile-grade Class-D power amplifiers, earning numerous awards from audio publications in the U.S. and Japan. Building upon its reputation as a company that develops state-of-the-art audio products, NuForce has worked diligently to expand its product line with digital-to-analog converters, in-ear and over-the-ear headphones, speakers and subwoofers, cables, additional home and headphone amplifiers, and other quality audio accessories. In every product and in every way, the NuForce brand offers superior engineering in designs of simple elegance.
Sold internationally, NuForce remains firmly committed to value and integrity in the production of high-performance consumer electronics adhering to stringent quality standards.