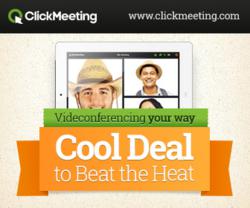 This promo allows business operators to find out how online meetings can increase effectiveness and reduce costs.
Wilmington, Delaware (PRWEB) July 01, 2013
During summer months, meeting logistics get complicated. Vacation travelers need to stay in touch with key employees back home. Office workers need feedback from decision makers. ClickMeeting addresses both needs and announces a program to save up to 40% off their already low prices. Not an introductory offer, these prices are for life.
"Since 1999 we've been delivering advanced software solutions with prices affordable enough for small businesses,"said ClickWebinar Founder and CEO Simon Grabowski. "This promo allows business operators to find out how online meetings can increase effectiveness and reduce costs."
The promotional pricing applies to every service package, from the ClickMeeting starter package with unlimited meetings for up to 25 participants, to a ClickWebinar package for groups of up to 1,000 attendees. Custom plans are available for audiences larger than 1,000.
ABOUT CLICKMEETING SOFTWARE
Unlike some platforms, ClickMeeting gets you off to a fast start. The meeting organizer has the option of creating a permanent meeting room for ad hoc instant meetings. Or for more structured future meetings, the organizer can pre-populate the meeting room with a wide variety of meeting tools.

The built-in presentation pod enables the organizer to create or import Powerpoint slides to support oral presentations.
The digital whiteboard is great for agendas and note-taking in ad hoc meetings. Or an entire whiteboard presentation can be set up in advance to deliver complex presentations.
Cloud technology to enables desktop sharing without the usual delays and out-of-sync problems — perfect for product demos and software training classes.
The popular survey tool has been enhanced to include tests with an automatic scoring feature. Now organizers can run multiple surveys and tests then optionally share overall results on the spot.
The system accommodates up to 4 presenters at a time. And organizers have the option to pass the camera and microphone to any participant for quick comments or questions.
The interactive chat feature supports public or private chat or can be turned on and off with a click. Participants can have the chat stream translated in their choice of 52 languages.
Popular new mobile apps allow participants and presenters to attend meetings via Apple iPad, Galaxy Android pad or Blackberry PlayBook.
The ClickMeeting software also includes such popular capabilities as meeting recording and sharing, meeting room rebranding and statistics reports.
The ClickMeeting Summer Sale is now offering every service package at the lowest prices of the season. Visit the company website to view the ClickMeeting Discounted Pricing Grid.