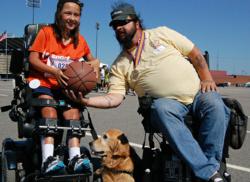 During Kids Day, wheelchair athletes mentor local disabled children, introducing them to adaptive sports.
Tampa, FL (PRWEB) July 01, 2013
The 13th annual Kids Day event will take place Monday, July 15, as part of the 33rd National Veterans Wheelchair Games taking place in Tampa July 13-18. Kids Day offers children with physical disabilities from the local Tampa area an opportunity to interact with world-class wheelchair athletes competing in this year's National Veterans Wheelchair Games.
Under the watchful eyes of the athlete mentors, children will participate in several athletic events including T-Ball, basketball and wheelchair slalom. A special closing ceremony will follow where the athlete mentors will present the children with their own medals for participating in Kids Day. This special event takes place at the Tampa Convention Center, East Hall, 333 Franklin Street, from 9 to 11:00 a.m. on Monday, July 15. It is free and open to the public.
Tampa area children with physical disabilities ages 4 to 14 years old are invited to participate, however advance registration is required. Parents can register their child by contacting Brittany Pesak at Brittany.Pesak(at)va(dot)gov or call (706) 589-1229 or may contact Jason Labonte at Jason.Labonte(at)va(dot)gov or call (727) 365-2505.
The Games are co-presented by the Paralyzed Veterans of America and the Department of Veterans Affairs. The James A. Haley Veterans' Hospital and the Florida Gulf Coast Chapter of Paralyzed Veterans of America co-host the 2013 event locally.
The Public is invited to come out and cheer for the Veterans at any of the Games' 18 medal-awarding sporting events and two exhibition events. For a detailed schedule, visit the national website at http://www.wheelchairgames.va.gov.