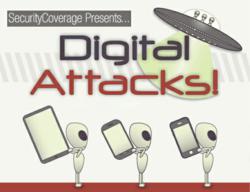 Mobile users often don't realize they're carrying a mini computer in their hand. - CEO Robert O'Dell
Cedar Rapids, IA (PRWEB) July 08, 2013
With more than 1 billion mobile devices now being used in the US and mobile device sales exceeding PCs by more than a 2:1 ratio; the mobile environment has spawned a new battleground for digital attacks. SecurityCoverage Inc. today released an innovative, alien-invader themed infographic showing how the mobile malware invasion has changed conventional thinking on device security and how simple preventative measures like those available from SecurityCoverage's Mobile Protection Apps and PhoneProtectSM Service can help keep consumers and their devices safe.
Digital invaders, including hackers and malware authors, know that 64% of consumers don't use password protection and only15% are using mobile AV/malware protection. The battlefield is wide open for these invaders to attack and harvest unprotected private data while the odds are still in their favor. The last three years have seen incredible growth in mobile malware discoveries with 2013 trending to be the worst year yet: based on current trends, SecurityCoverage projects there will be approximately 900,000 mobile malware discoveries in the first half of this year alone.
"Mobile users often don't realize they're carrying a mini computer in their hand. That means they face the same threats seen on desktop computers, plus the very real risk of loss or theft," said SecurityCoverage President and CEO Robert O'Dell. "People who wouldn't go a day without PC protection need to be educated on the mobile risks they face… and take steps to make themselves safe."
As the national debate swirls around mobile device "Kill Switch" and security risks, SecurityCoverage launched PhoneProtectSM on June 18th. PhoneProtectSM is a subscription service that helps consumers fight the dual threats of digital attackers and lost devices.
"It's a horrible feeling when you lose your mobile device; like losing your wallet or your keys," said O'Dell. "With just one call, PhoneProtect lets you rest easy knowing that your device and personal information are protected."
We are not alone… Digital invaders are among us and although the mobile security battlefield seems advanced; consumers must prepare for a counter-attack. With better knowledge, simple preparation, and force field infrastructure, consumers can ward off the digital attackers.
Attachment enclosed: Digital Attacks Infographic
Share our graphic:
You may use the infographic on your website. We ask that you attribute the work to us with a link back to our website.
About SecurityCoverage Inc.
Based in Cedar Rapids, Iowa, SecurityCoverage's mission is to simplify the use of technology and provide world class customer service. Known for award winning digital security, data protection, and exceptional support services, SecurityCoverage secures online identities and devices across desktop, mobile handset and tablet environments. It serves customers through a partnership group of electronic retailers, Internet Service Providers, and telecommunications and cable companies across the nation. Product and company information is available at http://www.securitycoverage.com.
Media Contact:
Mike Fleming
Public Relations Manager
Office: (319) 298-4709
Cell: (319) 202-4991
mfleming(at)securitycoverage(dot)com