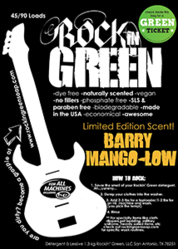 San Antonio, Texas (PRWEB) July 01, 2013
With the summer season in full swing, Barry Mango-low is the perfect fruity (but not too sweet) fragrance to enjoy in your laundry room. Like all Rockin' Green fragrances, this one is all natural - nothing artificial to irritate even the most sensitive skin.
As a clean rinsing scent, you get to enjoy the fresh, fruity smell while the soap goes to work...but unlike other brands, there is no lingering scent; just super clean clothes.
Rockin' Green's line of laundry detergent is an award winning product that has fans from South Dakota to South Africa. Moms around the globe trust Rockin' Green because it's safe for their family and cleans even the most stubborn stains.
As a special feature with the Barry Mango-low Summer Scent, Rockin' Green has announced that the Green Ticket Event is back again for 2013. Hidden inside random limited edition bags are Green Tickets with prizes from exciting companies such as: Ticketmaster, Amazon Kindle, iTunes, LUSH Cosmetics and more. All the full details about the event and contest rules can be found at: Green Ticket Event.
Rockin' Green CEO and Founder, Kim Webb, says, "I am thrilled to bring back the hidden Green Ticket Event this year. You never know where in the world a winner will turn up. It's amazing to know that your product reaches so many people!"
For more information on Barry Mango-low Summer Scent and the full line of Rockin' Green products, please visit the Rockin' Green site at: http://rockingreensoap.com.