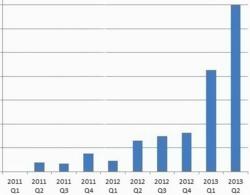 Small business owners are seriously underestimating the liability of security breaches.
Clearwater, FL (PRWEB) July 01, 2013
Internet security awareness training firm KnowBe4 has responded to the current cybercrime epidemic by asserting the need for public education—through its steady growth and zeal for eradicating cybercrime in America, the company recently secured a contract with a 150,000-seat corporation for its security awareness training program. KnowBe4 is the brainchild of information technology (IT) expert, Stu Sjouwerman, who formed the company as a way to protect American businesses and individuals from the threat of cybercrime, and "The World's Most Wanted Hacker" Kevin Mitnick, who is KnowBe4's Chief Hacking Officer.
Sjouwerman says that while the recent contract was a standout business accomplishment, KnowBe4's specialty is securing small to medium-sized enterprises (SMEs). "KnowBe4's growth," says Sjouwerman, "can be attributed to the rise of cybercrime in the world—security breaches are at an all-time high, and small businesses, considered by some to be 'cybercrime's easiest prey,' received almost half of the recorded data breach incidents in 2012" (1). For those SMEs, the cost of repairing a security breach is catastrophic—nearly 60% of small businesses that are hit by cyberattacks close within six months of the attack (2).
Yet, despite the potential damage that security breaches can cause, a recent study shows that small businesses often hold the misconception of being safe from cyberattacks:
●Forty percent of small business owners have no protocols in place for securing data, a five percent increase from last year.
●More than one-third of small businesses report that they never train staff on information security procedures.
●Forty-eight percent have no dedicated employee who is directly responsible for management of data security.
●Only 18 percent would encourage new data privacy legislation requiring stricter compliance and penalties for information security threats (3).
Sjouwerman believes that the reason so many companies are falling victim to cybercrime is because they are failing to take proactive measures to prevent it. He attributes the growth of the criminal enterprise to SMEs being more concerned about the time and productivity lost due to data breaches than the more tangible outcomes (such as loss of customers and business partners, or damage to the company's reputation). KnowBe4 encourages small business owners to weigh the pros and the cons of investing in steeper security measures.
"The difference is undeniable," says Sjouwerman. "Small business owners are seriously underestimating the liability of security breaches. The costs associated with cleaning up a security breach compared to defending one from occurring are incomparable—just one data breach could mean the end for small business owners."
Security Awareness Training has been proven to lower incidents of cybercrime (4). But Sjouwerman also notes that today's security awareness training should include the following:
1.Contain current cybercrime trends to effectively educate;
2.Be created from the viewpoint of a hacker;
3.Trains employees in an interactive, Web-based format that includes live demonstration videos and short tests;
4.Have regularly-scheduled phishing security tests to help keep employees on their toes; and
5.Produce management reports to identify the "repeat offenders" and take appropriate actions to protect the company.
For SMEs needing protection from cybercrime but worried about losing valuable production time, KnowBe4 offers its comprehensive Kevin Mitnick Security Awareness Training. The 30 to 40-minute program is interactive, Web-based, and includes case studies, live demonstration videos and short tests. Sjouwerman partnered with Mitnick, who now applies his hacking expertise to help organizations and individuals defend against security breaches. The duo created next-generation security awareness training and testing to help SMEs protect against the increasingly urgent security problem of social engineering.
In contrast to most security firms, KnowBe4 also offers the Kevin Mitnick Home Internet Security Course to the general public as means of protecting against identity theft. Knowbe4 has primarily been in the business-to-business market, but noticed that American families were also becoming susceptible to security threats, such as stolen identities and cyberattacks via online banking and social media.
For more information on how KnowBe4 can protect businesses and individuals against cybercrime, visit http://www.knowbe4.com.
KnowBe4's Quarterly Statistics
About Stu Sjouwerman and KnowBe4:
Stu Sjouwerman is the founder and CEO of KnowBe4, LLC, which provides Web-based Internet Security Awareness Training (ISAT) to small and medium-sized enterprises. A data security expert with more than 30 years in the IT industry, Sjouwerman was the co-founder of Inc. 500 company Sunbelt Software, an award-winning anti-malware software company that he and his partner sold to GFI Software in 2010. Realizing that the human element of security was being seriously neglected, Sjouwerman decided to help entrepreneurs tackle cybercrime tactics through advanced security awareness training. He and his colleagues work with companies in many different industries, including highly-regulated fields such as healthcare, finance and insurance. Sjouwerman is the author of four books, with his latest being Cyberheist: The Biggest Financial Threat Facing American Businesses Since the Meltdown of 2008.
1.Kavilanz, Parija. "Cybercrime's Easiest Prey: Small Businesses." Money.cnn.com. Cable News Network, 22 Apr. 2013. Web. 25 June 2013. money.cnn.com/2013/04/22/smallbusiness/small-business-cybercrime/index.html.
2.Westerman, George. "Your Business Is Never Too Small For A Cyber Attack, Here's How To Protect Yourself." Forbes.com. Forbes Magazine, 13 May 2013. Web. 25 June 2013. forbes.com/sites/forbesleadershipforum/2013/05/13/your-business-is-never-too-small-for-a-cyber-attack-heres-how-to-protect-yourself/.
3."It Won't Happen to Us: Large and Small Canadian Businesses Increasingly Complacent About Information Security." Finance.yahoo.com. Yahoo!, 18 June 2013. Web. 25 June 2013. finance.yahoo.com/news/wont-happen-us-large-small-120000598.html.
4.Sjouwerman, Stu. "Visible Proof The KnowBe4 System Works." KnowBe4.com/visible-proof-the-knowbe4-system-works/ 2012-2013.