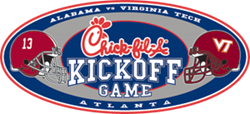 The Suite experience was awesome -- Larry (Sacramento, CA)
San Diego, CA (PRWEB) July 29, 2013
Ultimate Sports Adventures, a leading provider of high-end ticket packages to major sporting events, has limited availability of private luxury suites / skyboxes for the August 31 Football Game between defending National Champion Alabama Crimson Tide and the Virginia Tech Hokies, at the Georgia Dome in Atlanta, GA.
The Suites offers an unobstructed viewing of the action with plush theatre style seats, multiple flat screen TVs, a social area, and offer premium food & beverages within the suite.
Since its inception in 2008, every edition of the Chick-fil-A Kickoff Game has provided a national broadcast in prime time. A combined 18.2 million households have watched Chick-fil-A Kickoff Games over the past five years.
In 2012, there were two Kickoff Games on back to back days. North Carolina State took on Tennessee and Auburn took on Clemson.
Private Luxury Suites in the Georgia Dome come with either 16-20 Tickets or 24-28 Tickets. Prices vary per location and size. Compare these prices per ticket to the infield lower level and you'll see a great deal.
Ultimate Sports Adventures is considered an industry leader in providing VIP Experiences at Major Sporting Events including the Super Bowl, BCS National Championship, Masters Golf Tournament, Ryder Cup, World Series & MLB All Star Game, along with Big Game Fishing Trips to Alaska, Panama, Mexico and all over the United States and Canada. To reserve a Luxury Suite / Skybox, Ticket Package, or a Fishing, Hunting, Exotic Car Driving Experience, call Ultimate Sports Adventures toll free at 1-877-225-2155 or 619-270-2276.
There is no sold-out game! Ultimate Sports Adventures has your Tickets.