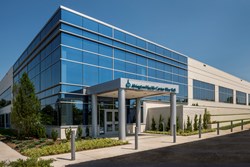 "Adding a fourth outpatient facility is a very exciting endeavor for Abington Health," said Laurence M. Merlis, president and CEO, Abington Health.
Abington, PA (PRWEB) July 01, 2013
The newest Abington Health Center opens today in Blue Bell, PA. This new 48,000 square foot state-of-the-art facility features multiple physician practices and outpatient services.
"Adding a fourth outpatient facility is a very exciting endeavor for Abington Health," said Laurence M. Merlis, president and CEO, Abington Health. "Establishing a location in Blue Bell allows us to expand our geography and enables us to provide services to a patient base that can access our services conveniently and close to home."
Many of the most in-demand healthcare services and practices can now be found under one roof, including primary care and specialty care practices, a comprehensive Imaging Center, and a laboratory draw site.
The primary care physician practices, Ambler Medical Associates and Blue Bell Family Practice, have earned the highest level of recognition from the National Committee for Quality Assurance (NCQA) as Patient-Centered Medical Homes. The practices care for patients ranging in age from newborns to 100+.
The specialty practices include Abington Primary Women's Healthcare Group, an OB/GYN practice specializing in health care for women before, during and after child-bearing years. The physicians and advanced practice professionals treat both healthy and high risk pregnant women, perform routine exams, provide family planning assistance, identify fertility issues, and treat disorders affecting the female reproductive system and sexually transmitted diseases.
The Neurology Group is dedicated to the practice of comprehensive neurological care. The physicians are specialists in diagnosing and treating a wide variety of neurological conditions and diseases. Abington Medical Specialists, a cardiology practice, will also provide patient care in the Specialty Suite.
In addition to the physician practices, the comprehensive imaging center offers CT, mammography, DEXA, ultrasound and an Open MRI that can accommodate patients who weigh up to 550 pounds on the high field open imaging table. X-ray services are offered on a walk-in basis with no appointments needed. The center offers convenient evening and Saturday hours. The laboratory draw site also offers evening and Saturday hours with no appointments necessary.
The campus is conveniently located at the intersection of Township Line and Union Meeting Road and offers ample parking, free Wi-Fi access and a café. Abington Health – Blue Bell is located at 721 Arbor Way, Blue Bell, PA. For more information, please call 215-481-6334 or visit us at http://www.amh.org/bluebell.
About Abington Health
Abington Health is the umbrella organization that encompasses its flagship hospital, Abington Memorial Hospital, in Abington and Lansdale Hospital in Hatfield Township. Abington Health also includes two convenient outpatient facilities, Abington Health Center - Schilling in Willow Grove, Abington Health Center - Warminster in Bucks County and Abington Health Center – Blue Bell in Blue Bell, PA. Together, these facilities serve more than 39,000 inpatients, 134,000 emergency patients and over 653,000 outpatient visits annually.
More than 1,400 physicians are on staff at both Abington Memorial Hospital and Lansdale Hospital. Additionally, Abington Health Physicians is an employed network of primary care physicians and specialists. Abington Health has more than 6,100 employees, making it one of the largest employers in Montgomery County.