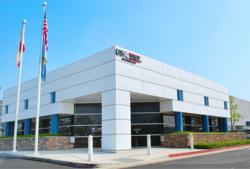 City of Industry, CA (PRWEB) July 01, 2013
US Bankcard Services, Inc. (USBSI) is proud to announce the inauguration of its new branch office on Wilshire Boulevard, Los Angeles, and that the company is now home to over one hundred employees. The new branch office is located in the heart of Korea Town and is a well-staffed and fully functional office. The Wilshire Boulevard location provides a convenient venue and strategic location for liaisons between merchants and USBSI representatives.
USBSI is a multifaceted company with a comprehensive organizational structure, including departments such as Sales, Administration, Customer Service, IT, and Marketing. Its over one hundred strong staff is devoted to providing the credit card processing industry's best customer service. In particular, the in-house Customer Service team, which has multi-lingual representatives who speak more than nine languages, strives to improve the merchant experience. The Customer Service team assists merchants in handling processing problems and understanding current payment card industry regulations, requirements, and opportunities.
In addition to its first-rate customer service, USBSI provides its merchants with free loaner terminals and paper rolls for their terminals as well as free online statement access. Merchants can expect punctual payment of funds upon settlement as well as chargeback assistance and prevention training. Finally, USBSI provides 24/7 technical support all year long for merchants with technical difficulties. Since 1996, USBSI's strong belief in exemplary customer service sets USBSI apart from other merchant service providers. USBSI has provided unparalleled service and support to its merchants and it is delighted to be of even greater service at its newest location.
About US Bankcard Services, Inc.
US Bankcard Services, Inc. is a top rated MSP that offers competitive rates, incredible customer service support, and cutting edge technology in credit card processing service. USBSI offers a wide array of value-added services, including QuickDining.com (QD) restaurant e-commerce, gift card services, check guarantee, PCI –DSS compliance consultancy, 24-7 multilingual customer service and technical support. US Bankcard Services, Inc. is a registered MSP/ ISO of Elavon, Inc. Georgia
For more information about merchant bankcard services please visit us at usbsi.com or call us at: 1-888-525-8558.