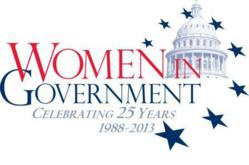 Boston, MA (PRWEB) July 10, 2013
Women state legislators from across the country will converge in Boston, MA on July 17-18 to participate in Women In Government's Economic Security & Opportunities Workshop. Policies to be discussed range from encouraging families to build assets and savings to achieving permanency and a sense of community for youth in the child welfare and foster care systems.
The two day event will include presentations from experts such as Katie Wright, Policy Analyst with the Half in Ten Program, and Laura Beavers Speer, Associate Director, Policy Reform & Data for The Annie E. Casey Foundation. Katie Wright's work on reducing the U.S. poverty rate has led to publications in many prestigious news outlets such as The Washington Post and The Nation. Laura Beavers Speer has spent a number of years doing state- and local-level child advocacy work for the National KIDS COUNT Project and other organizations. Legislators will have the chance to interact with these professionals and brainstorm ideas for combating these issues in that effect their constituents, the state overall, and the nation as a whole.
Due to the increasing need for further information regarding economic security, in 2003 Women In Government created and has been refining and growing the Economic Security & Opportunities Policy Resource Center (PRC) for the past ten years. The PRC recognizes the most pressing concerns and provides resources for legislators to address challenges such as juvenile justice reform, promoting higher education and achieving financial literacy along with the other critical issues addressed at the workshop.
To learn more about the PRC visit: http://www.womeningovernment.org/economics.
To learn more about the July workshop in Boston visit: http://www.womeningovernment.org/esoworkshop2013.
Women In Government Foundation, Inc. is a non-profit, non-partisan organization of all female state legislators across the country which provides educational resources, expert forums, networking and leadership opportunities.
Women In Government provides full scholarships to women state legislators only to attend the conferences. Please contact information listed above for additional details.