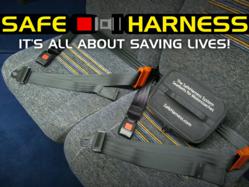 With SafeHarness, the first and only personal, portable seatbelt, our main concern and primary goal is to save lives and give people the choice in this basic seatbelt safety during motor coach travel."
Garden City, NY (PRWEB) July 01, 2013
SafeHarness, the first and only personal, portable seatbelt for motor coach buses, has launched a 50-day campaign on crowdfunding platform Indiegogo.com. The creators hope to raise $50,000 to help bring these innovative products to market in order for all to have a choice in basic motor coach safety.
Blanch Associates, creators of SafeHarness, is a joint venture of two inventors: Blake McCauley and Charles Bedell. Mr. McCauley is a retired New York City fireman and Mr. Bedell is the current owner of an auto dismantling facility; it is because of their professions that they are well aware of the countless injuries and fatalities associated with vehicle collisions. Exposure to these recurring tragedies led to the formation of Blanch Associates and, consequently, the birth of SafeHarness: the first and only personal, portable seatbelt for motor coach travel. Now, SafeHarness has made its debut on Indiegogo with the goal of raising the funds necessary for manufacturing the first 1,000 belts in the USA.
"Our motivation from the beginning has been to save lives," says Blake McCauley, Co-Founder of SafeHarness. "Every day you hear of a new motor coach accident where they roll over or they roll on their sides and masses of people are hurt or killed. So, if we can keep them in their seats, their chances are much greater to survive and avoid injuries. With SafeHarness, the first and only personal, portable seatbelt, our main concern and primary goal is to save lives and give people the choice in this basic seatbelt safety during motor coach travel."
SafeHarness is designed with the intention of providing a safer environment for those engaging in motor coach travel—particularly the safety of children, elderly and those with special needs.
Though new regulations (not laws) are anticipated requiring all new motor coach buses to be outfitted with seatbelts in the future, these regulations will not be fully implemented until 2017. Blanch Associates is conscious of these progressive regulations but also understands the reality that these regulations do not include the addition of seatbelts on older models of coach buses. With the success of SafeHarness' Indiegogo campaign, these older buses (estimated to be on the road in some instances for as many as 10 to 15 years) will have an option to include the most basic form of passenger safety: the seatbelt.
The SafeHarness is a simple yet effective design intended to be used by an individual. It is easily installed on a motor coach seat by placing it over the seat back and sliding it down to the seat cushion. The individual then secures it in place by pulling on the belt which is kept taught because of a specially designed tensioning device. When installed correctly, the single strap design of the SafeHarness takes the shape of a standard automotive-grade lap belt and provides the passenger with a safety measure that would be otherwise unavailable.
Currently, SafeHarness is working through Indiegogo in order to raise the funds needed to produce the production tooling. Blanch Associates has invested 4 years in development and over $100,000 including costs for crash testing, cycles of trial and error to find a workable solution and patent expenses.
For more information, visit SafeHarness on Indiegogo at http://www.indiegogo.com/projects/safeharness-personal-portable-seatbelts-for-coach-buses/