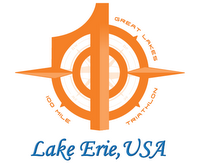 We are excited about seeing the growth of this race next year and watching it become an early season event that athletes from around the Northeast Ohio region and beyond will not want to miss.
Lockport, NY (PRWEB) July 01, 2013
Great Lakes 100 Mile Triathlon Series is pleased to announce the inaugural Lake Erie 100 Mile Triathlon was an overwhelming success. Over 50 athletes registered from across the U.S. and Canada.
The men's overall winner, Dan Pierce of Erie, PA set the new 100 Mile Triathlon distance record of 6:01:49. The women's winner, Deborah Battaglia finished with a time of 7:05:39. Each winner earned a Great Lakes Brewing Co. cycling jersey in addition to their 1st Place trophy stein and finisher gifts.
Law Enforcement officials and first responders from six separate law enforcement and emergency medical services agencies supported the race with: swim course support including Coast Guard supervision and scuba divers, State Troopers, Sheriffs and Police officers manning seven high traffic intersections along the bike course, Police officers on bicycle policing the run course.
One finisher received medical attention for minor dehydration and was feeling fine within 30 minutes of receiving first aid and hydration. Additionally, only four participants failed to complete the 100 Mile race. All other participants safely finished without incident.
Finishers, supporters and family members enjoyed a post-race party and awards ceremony at the Firehouse Winery on the shore of Lake Erie. These events spur local economies by attracting high income athletes from the far reaches of North America who reserve hotel rooms, patronize local restaurants, convenience stores, and tourist attractions while the race itself employs local law enforcement officers who are contracted to man the race course.
The Lake Ontario event will be held on October 5 in Barker, N.Y. Registration is now open for triathletes, duathletes, aquabike competitors and relays. Entrants will be limited to 500 for the event.
Great Lakes Racing, LLC, the race management company responsible for the Great Lakes 100 Mile Triathlon Series, will be revealing plans to expand the race series to Lake Huron in Eastern Michigan during the summer of 2014 and across the Great Lakes Region in the coming years. For more information about the Great Lakes 100 Mile Ultra Marathon Series, please visit their website at http://www.100MileTri.com.
About the company:
The Beast of Burden 100/50 Mile Ultra Marathon is a long-distance running race that takes place twice each year, Winter & Summer, beginning and ending in Lockport, N.Y. Runners may choose to attempt the 50-mile or 100-mile distance. Competitive and recreational ultra distance runners from across the United States, Canada, South America and abroad have assembled to mark this race as a growing tradition and world class running event. http://www.beastofburden100.com.