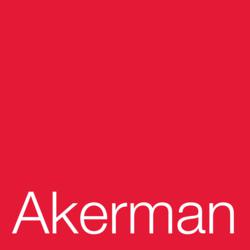 (PRWEB) July 01, 2013
Akerman Senterfitt today announced that Florida Trend magazine has named 37 of the firm's attorneys to its 2013 Florida Legal Elite list, making Akerman one of the top firms in the state for total lawyers listed, and one of the four firms with the most women honorees. The lawyers are from Akerman's offices in Miami, Fort Lauderdale, Jacksonville, Orlando, Tallahassee, Tampa and West Palm Beach.
Honorees include shareholder Karen Buesing, who is a member of the Legal Elite Hall of Fame, and six lawyers under the age of 40 that were named Up and Comers for exhibiting leadership in the law and in their local community. The 2013 Florida Legal Elite list recognizes the state's top lawyers as selected by their peers through a voting process in 28 practice areas and recognizes less than 2 percent of the more than 66,000 Florida Bar members practicing in the state.
The Akerman lawyers honored in 2013 are:
Silvia M. Alderman, Environmental and Land Use
Jacqueline M. Arango, Criminal Law
Eyal Berger, Up and Comer
Allison S. Bernstein, Civil Trial
Jacob A. Brown, Bankruptcy & Workout
Karen M. Buesing, Labor & Employment
Robert I. Chaskes, Commercial Litigation
Aileen S. Davis, Banking & Financial
Michael K. Dixon, Intellectual Property Rights
Susan N. Eisenberg, Labor & Employment
Carol L. Schoffel Faber, Real Estate
Mary Katherine Fackler, Up and Comer
Samantha S. Feuer, Government & Administrative
Joseph E. ('Ed') Foster, Commercial Litigation
Christian George, Up and Comer
Joanne Gelfand, Bankruptcy & Workout
Katherine Eastmoore Giddings, Appellate Practice
Andrew P. Gold, Commercial Litigation
Michael I. Goldberg, Bankruptcy & Workout
Rachael L. Greenstein, Up and Comer
Laura M. Holm, Business Law
Arlene K. Kline, Labor & Employment
Andrew M. Loewenstein, Up and Comer
John B. Macdonald, Bankruptcy & Workout
D. Brett Marks, Bankruptcy & Workout
Margaret D. Mathews, Commercial Litigation
Jason S. Oletsky, Commercial Litigation
David E. Otero, Bankruptcy & Workout
Guy E. Quattlebaum, Civil Trial
Carl D. Roston, Business Law
Lawrence D. Silverman, Commercial Litigation
Scott T. Silverman, Labor & Employment
Julie S. Sneed, Commercial Litigation
David I. Spector, Commercial Litigation
George Volsky, International
Melissa Zinkil, Up and Comer
About Akerman Senterfitt
Akerman is a leading transactions and trial law firm known for its core strengths in middle market M&A, within the financial services and real estate industries, and for a diverse Latin America practice. With more than 550 lawyers and government affairs professionals and a network of 19 offices, it is ranked among the top 100 law firms in the United States by The National Law Journal NLJ 350 (2013). More information can be found at akerman.com or twitter.com/akerman_law.