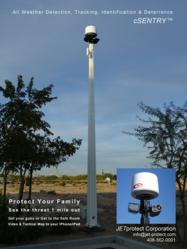 San Jose, CA (PRWEB) July 01, 2013
JETprotect Corporation is pleased to debut cSENTRY™, an automatic all-weather security and deterrence system for estates that have safe rooms. The combination of radar, thermal cameras and threat classification software creates a seven square mile umbrella of security from a single unit. cSENTRY™ detects, videos, tracks and alerts of trespassers miles away giving the family time to assess the threat and reach the safe room if needed.
cSENTRY is an early warning system by detecting threats far from the home at night and in bad weather. It finds the trespassers and instantly pushes close-up video to the head of the household. High fidelity imagery of the intruders is linked to the appropriate family iPhones & iPads for immediate action.
At the center of cSENTRY™ is Cortex™. Tactical software that extracts metric scene data and video from one or more cSENTRY's and display trespassers on the estate's aerial map. Cortex™ directs cameras to point and magnify every trespasser and push pictures to the estate owners, dedicated security personnel and central stations. Rules determine the initiation of defensive actions either automatically or by the owner.
JETprotect's CEO, Greg Johnston, says "cSENTRY™ is an elegant design that fuses weather penetrating radar and high-zoom cameras on top of a 20' geometric spire. The system alerts you automatically and presents live video of potential threats from distance. It gives you time to get your guns or get to the safe room".
cSENTRY™ is sold, installed and serviced by authorized dealers and integrators throughout the US and worldwide.
JETprotect is a leading manufacturer of residential and commercial autonomous security systems, providing turn-key solutions for integrated security systems. Manufacturing harsh environment hardware and analytic software for surveillance and intelligence products for government agencies, corporate security and private safety.