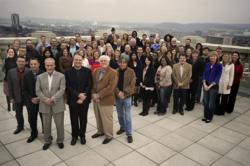 I've worked at a lot of places during my career, and this is absolutely the best of them all, hands down. The KSQ way is hard to describe...It's a feeling, an attitude, a way of life. - KSQ Employee
Tulsa, OK (PRWEB) July 01, 2013
KSQ Architects recently was named one of the "Best Firms to Work For" by ZweigWhite, the nation's leader in enhancing business performance for architecture, engineering, and environmental consulting firms.
Firms who applied for the ranking were evaluated comprehensively on firm culture, workplace practices, employee benefits, employee retention rates, professional development and more – both from the management and staff's perspectives.
According to a press release issued by ZweigWhite, "These firms create an environment where their people feel valued, can make a difference, and can clearly see their contribution to the overall mission and success of the firm."
One anonymous KSQ employee responded to the survey and said, "I've worked at a lot of places during my career, and this is absolutely the best of them all, hands down. The KSQ way is hard to describe...It's a feeling, an attitude, a way of life." KSQ maintains offices in Oklahoma, New York and Texas.
David Short, a principal with the firm, is pleased with the recognition. "For more than 25 years, our firm has taken deliberate steps to be a place where our staff enjoys working," he said. "The KSQ culture is pretty special–and the opportunities we've enjoyed over the years are in many ways a result of that culture."
The winners were announced and celebrated at the Best Firms To Work For Conference at The Hard Rock Hotel in Chicago, on June 20-21, 2013.