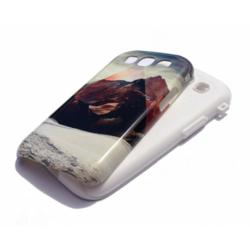 The Samsung Galaxy S3 tough case is a great way for customers to get a custom designed case plus have the durability needed to protect the phone
San Diego, CA (PRWEB) July 02, 2013
Many Samsung users have been asking for a custom Samsung Galaxy case that provides more protection and durability. Now, Case-Monkey.com offers the Samsung Galaxy S3 case that can do just that job. "The Samsung Galaxy S3 tough case is a great way for customers to get a custom designed case plus have the durability needed to protect the phone," says Allison Marotta, a representative at Case-Monkey.com.
Extra Protection
This Samsung Galaxy S3 case has two parts: an inner silicon sleeve and an outer polycarbonate case. The inner silicon sleeve helps absorb shock, while the polycarbonate case clips on to the silicon sleeve providing the protection of a hard phone case. The silicon sleeve also enhances the feel and grip of the original phone. Users who have ever accidentally dropped their phone will see the benefits of this shock-absorbing Samsung Galaxy S3 case.
High Quality Printing Process
Not only does this Samsung Galaxy S3 case provide extra protection to user's phones, but it also goes through the same high quality printing process provided on other Case-Monkey.com products. Users can still go through the same simple 4-step design process to create their custom case. Once the case is ordered, this design will be printed right on to the surface of the cover. This gives the case a final clean and glossy look.
About Case Monkey:
Case-Monkey.com is the best place online to make iPhone 4 and 5 custom cases, iPad cases, and Samsung Galaxy S3 and S4 cases.
Case-Monkey.com is a small company with a simple mission: provide design freedom and the ability to easily design completely customized cases online at great prices.
It's all about being easy for anyone to custom design their own iPhone, iPad, and Galaxy cases.