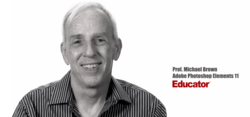 Adobe Photoshop Elements 11 is just one of the 70+ great courses offered at Educator.com.
Los Angeles, CA (PRWEB) July 01, 2013
Educator.com is excited to welcome yet another great addition to the family of software training courses: Adobe Photoshop Elements 11. The invaluable skills gained from this course helps users of the most popular photo-editing software in the world.
Photoshop Elements is equipped with the essentials of photo editing and retouching, perfect for practical application in everyday life. More and more people are turning to the power of Photoshop Elements for various everyday projects: fashion design, marketing, retouching old family photos, business presentations, and so much more.
Professor Michael Brown is a wealth of Photoshop knowledge and real-world experience through his 25 years in the advertising industry. He is an Adobe Certified Photoshop Instructor and has been a beloved teacher to a wide variety of students for numerous years. His courses walk students of all different levels step-by-step through Photoshop's many impressive functions and tools starting with basics like light and color, importing content, and then image enhancement, sharpening, and retouching people. Even for those who aren't creative professionals, Photoshop savvy can still help give anyone higher qualifications and a competitive advantage in today's tough economy.
Adobe Photoshop Elements 11 is just one of the 70+ great courses offered at Educator.com. It is complemented by other software training courses like Photoshop CS6 and Premiere Elements 11, as well as other various subjects in Computer Science, Math, Science, Language, SAT and AP test prep. Complete access to all of these courses is available for the affordable price of $35 dollars a month. Educator.com empowers students to learn anything, anytime, anywhere. Other super saver options include a 6-month or 12-month bundle plan for $150 and $240 a year, respectively.
Educator.com is proud to provide today's scholars with advanced digital study materials that meet both their academic and financial needs. New and exciting courses are frequently added. At this time, Educator's Adobe Photoshop Elements 11 lessons and accompanying free sample lessons are available for immediate viewing.
###
Educator.com pairs students with the best university professors and educators in the country. Educator's goal is to provide high school, college, and professional students with a variety of academic subjects in an online video format that is affordable, accessible, effective, and comprehensive.
The most effective way to improve education is to have the best teachers teach. With the best instructor in a subject, learning anything is possible. Every student deserves an excellent education regardless of geographic location or socioeconomic status and with Educator.com's affordable pricing everyone can access the site's complete content. For more information about the company please visit the About Us Page.