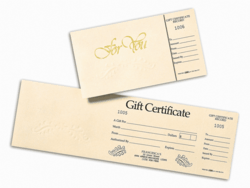 Small business owners would be surprised to see how something so small and inexpensive as custom gift certificates could have such a big impact.
Miami, FL (PRWEB) July 01, 2013
Building a strong customer base is the focus of every small business today. Customer retention will guarantee consistent company growth and ensure the continued existence of that business. Building a relationship with your customer is the first step. This can be accomplished by giving consumers the best possible experience when they interact with your company. Custom gift certificates are one way retailers can easily provide customers with a positive experience, while making it convenient for them to get the products or services they desire. They not only encourage customers to return, but for customers to bring in new business when they give them as a gift.
Gift certificates are an affordable and easy to use promotional tool. Custom printed gift certificates are simple to use and sell and do not require any computer software or machines to be processed or redeemed. Business owners can easily keep track of purchases with numbered certificates ensuring that both the retailer and customer have a record of the transaction. This creates a personalized connection between retailers and their customers.
"Small business owners would be surprised to see how something so small and inexpensive as custom gift certificates could have such a big impact," explains Natalie Everaert, VP of Marketing at Smart Resolution.
Summer is a great time for small businesses and retailers to find unique ways to bring existing customers back. The warmer weather brings with it increased retail sales for wedding, shower, and other celebratory gifts. Custom printed gift certificates provide an added opportunity for those retail businesses to encourage customers to shop their store for gifts, even if they aren't sure of the taste of the gift recipient.
Gift certificate printing is a unique way to reinforce a business' brand amongst new and existing customers. Printing retailers offer several kinds of gift certificates in a wide range of colors and styles. A small business owner can simply pick the style of gift certificate they would like, add their own logo, or pick from many free designs that represent their industry. Custom printed gift certificates also have a space designated for businesses to add their contact information. This gives a personal touch that most business owners will appreciate.
A custom gift certificate is the gift that keeps on giving. It is a piece of a complete marketing strategy to increase customer loyalty and increase traffic into retailers.
Founded in 2003, Smart Resolution is an online printing company that offers complete solutions for small businesses seeking value, convenience and professionalism. With a user friendly website and the latest trends in technology, they aim for a growing number of customers to elect them as the online printing company of their choice.