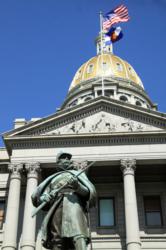 These new state credit report regulations have been in complete synchronization with the HireSafe method of conducting compliant background checks since 1997.
Elk Grove, CA (PRWEB) July 01, 2013
HireSafe - While Colorado is set to become the 10th state to restrict an employer's right to use credit reports in employment decisions, HireSafe, a leading employment screening company, views these new regulations as a step in the right direction.
According to HireSafe, the proper use of a pre-employment background check is not to automatically deny employment based upon a blemish in an applicants' past. Rather, it is a tool for an employer to make an informed hiring decision and to ensure that potential new employees can demonstrate the strength of their character despite earlier indiscretions. Information beyond learning if the applicant meets the requisites of a qualified candidate should be excluded from the screening process, something that Colorado's new regulations are helping to ensure.
"These new state credit report regulations have been in complete synchronization with the HireSafe method of conducting compliant background checks since 1997," says Al Firato, HireSafe's CEO.
In CA, CT, HI, IL, MD, NV, OR, VT and WA the use of credit reports for employment suitability have not been banned outright. These new state laws have been put into place to balance the role of credit reports as one component of the hiring evaluation.
The significant difference from other state credit use laws is that Colorado requires any employer that relies, in whole or in part, upon consumer credit information when taking adverse action against an applicant or employee, to make a written disclosure to that person explaining that the company has relied on credit information to make the decision. Also, the company must note the specific information upon which the employer relied to make the decision.
Generally, the law states employers may not use, or require an applicant to consent to the release of consumer credit information for employment purposes unless the credit report is "Substantially Related" to the employee's current or potential job responsibilities. Exceptions are provided for banks, financial institutions, and circumstances where a credit report is required by law.
"Substantially related" is generally defined as a position which:
(1) Constitutes executive/management personnel or officers or employees who constitute professional staff to such personnel and the position involves at least one of the following:
a) Setting direction/control of business/division;
b) A fiduciary responsibility to employer;
c) Access to customers', employees' or employer's personal or financial information
other than information customarily provided in a retail transaction;
d) The authority to issue payments, collects debts, or enters into contracts;
e) Routinely handles large sums of cash in, or
(2) Involves certain contracts with federal government (e.g., defense, intelligence)
Although generally not required to do so, a best-practice would be for an employer to provide an applicant or employee the opportunity to explain any unusual or mitigating circumstances related to their credit report results. Life events such as divorce, loss of a job or medical bills can be overwhelming and beyond an individual's control. While important, a credit report does not represent the sum total of an individual's capabilities.
HireSafe is one of the nation's highest rated background screening companies. In business since 1997, HireSafe is a full-line provider of Human Resource solutions, including Employment Background Screening, Drug Testing, Form I-9 Document Management with E-Verify and Applicant Tracking including Social Media Recruiting. As a CA licensed Private Investigative Agency, HireSafe provides only professional and FCRA compliant reports to their clients.