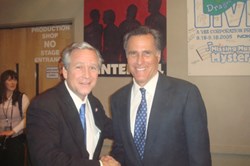 We were told to keep the video short and entertaining if it was to succeed on YouTube
Orlando, Florida (PRWEB) July 01, 2013
The long running Barter Rewards video, "21st Century Trade Exchange", has hit another milestone. At over 585,000 views, the video sets a new record for any barter company in the world according to Barter News the recognized industry online paper.
In the video, George W. Bush is played by Bush impersonator John C. Morgan. He takes us on a colorful ride through the history of barter in less than 40 seconds. "We were told to keep the video short and entertaining if it was to succeed on YouTube," said Tate Carson of Barter Rewards.
"When Tate asked me to promote this video, it had not been seen by very many people, this is typical for a business related video," remarked Thomas R. Reich, marketing Director of BizCentral USA. His intervention and guidance is responsible for the online and web marketing of Barter Rewards.
"This video was different than the typical business video; it was funny, well produced and not full of itself." Reich continued, "I decided to use some tricks I learned in the music industry, which I call Deep Rich Data." Thomas R. Reich has a long and storied history in the music industry with 67 gold and platinum albums to his credit, including INXS, WHAM, Debbie Gibson and D. J. Magic Mike.
"When Tom told me what he wanted to do, I said go for it. Thinking out of the box is what built my organization in the first place," Tate Carson commented. "Before I knew it, the video hit 300,000 views and everyone was buzzing about it. Now who knows where it will go; it's exciting."
Results of Deep Rich Data can also be seen in the Jimmie Van Zant video, "Unfinished Life", which is currently heading over 1,000,000 views for the first time in a long time for a Van Zant video of any kind.
Barter Rewards is the fastest growing Barter Company in the United States and has begun its world wide expansion with Australia and New Zeeland. Barter Rewards founder, Tate Carson, can be reached at 407.251.0980. BizCentral USA's Marketing Director, Thomas R. Reich can be reached at 407.857.9002 ex 514.