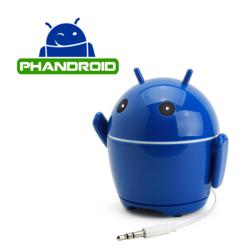 Westlake Village, CA (PRWEB) July 01, 2013
Accessory Power has released a limited edition portable speaker for Phandroid, called GOgroove PhanBot which was inspired by its predecessor, the GOgroove Pal Bot. The GOgroove Pal Bot was created in the image of Google's green character, Bugdroid. PhanBot is similar to the Pal Bot in functionality and display, except it has a blue body, white LED eyes and a white 3.5mm auxiliary cord.
Phandroid is the first independent website that focuses on Android news. It was created by those who are "fans" of Android. The GOgroove PhanBot was developed after Founder/Owner Rob Jackson did a review on the GOgroove Pal Bot. Mr. Jackson enjoyed the style of Pal Bot so much that he asked if a Phandroid version could be created. Accessory Power agreed and soon the GOgroove PhanBot was in existence. The speaker is sold through Accessory Power, with Phandroid having the ability to use it for promotional purposes and contest giveaways.
Like the Pal Bot, the PhanBot has two dual drive stereo speakers that are paired with a passive subwoofer on the bottom of the speaker. It has a rechargeable Lithium polymer battery that can handle up to six hours of use per charge. At lower volumes, the speaker can last as long as 24 hours or more. PhanBot also features glowing LED lights that indicate current battery status, moveable arms, a retractable cord 3.5mm auxiliary cord, and an included USB charging cable. The portable speaker weighs 12 ounces and can be carried easily in one hand.
Accessory Power has released an array of innovative "character-based" items through GOgroove by Accessory Power. Panda Pal and Mama Panda Pal where the first, then came Pal Bot. Next, were the GOgroove Groove Pal Junior portable speakers, six endangered or highly-threatened animals: owl, tiger, koala, penguin, polar bear, and panda. The larger versions of the Groove Pal Juniors - called the GOgroove Groove Pals – are set to be released in July 2013.
Since its release, the GOgroove PhanBot has been sold in North and South America. It is in limited supply as it is a novelty item. Once the ordered amount has been sold, there will be no more available.
For more information on Phandroid, visit http://phandroid.com/. For more information on Accessory Power, visit http://www.accessorypower.com/.