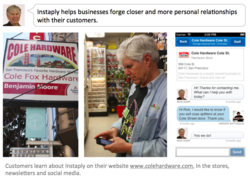 Instaply wants to fundamentally change the way consumers and businesses interact
San Francisco, CA (PRWEB) July 01, 2013
Instaply, Inc., today announced the launch of the company and its namesake product, the first Mobile Customer Interaction Platform (MCIP). Free to customers and businesses, Instaply enables consumers to discover text-friendly businesses and text directly with those businesses from their iPhone or Android device. At the same time, Instaply lets any business register and get immediate exposure to new customers. Registered businesses and customers now enjoy text-friendly customer relationships.
"Instaply wants to fundamentally change the way consumers and businesses interact," said Fabien Degaugue, Instaply CEO. "When it comes to contacting businesses, the existing communication channels are too restrictive, slow and unsatisfying and break down rather than build up relationships. With Instaply, customers and businesses can finally keep in touch and enjoy great customer relationships via texting."
"There is a real need for a new technology solution that enables consumers to quickly and easily get the information they need from their favorite businesses, and enables businesses to deliver a great experience beyond their four walls," said Sheryl Kingstone, Yankee Group Analyst. "66% of businesses want to allow their customers to SMS/text customer service via their mobile phone. The time has come for a texting platform that does not require the exchange of phone numbers, does not spam or market to customers and costs nothing for both consumer and business."
Key Features:

Directory of Text-Friendly Businesses. Customers can discover text-friendly businesses. No need to remember or share cell phone numbers. Businesses registered on Instaply are at customers' fingertips, anytime and anywhere.
Ability to text. Instaply looks and feels just like texting. Customers simply choose the business they want to contact from the directory and send them a message. Businesses reply straight back with the answer.
Multi-platform for businesses. Instaply conversations aren't tied to a single device like traditional texting. Business users can start the conversation on one device and flip to another at their convenience – from phone to tablet to computer and back depending on business needs.
Keep in touch. Just like texting friends, customers and businesses can follow up at any time in the future.
Why Instaply?
Consumers:

Discover an easier way to interact with businesses. Just like regular texting, Instaply can be used whenever and wherever users need it. No waiting on hold. No 'live' chats that tie them to their desks - they can just text and go.
Invite businesses to join. Instaply is for everyone and users can make it even more useful and build the community by inviting businesses they love in their area to join Instaply
No marketing. No spam. All interactions are user initiated, meaning no marketing or spam – EVER.
Businesses:

Get exposed to new customers. The Instaply directory puts businesses in front of new customers who are looking for great service and an instant way to get in touch.
The new standard in customer service. No-one wants to be stuck on the phone or hassled to give out their personal cellphone number. Instaply enables quick, easy, private interactions with customers, without compromises.
Increased efficiency. The challenges of tracking callers, remembering call details and even dealing with misunderstandings go away with Instaply. Instaply enables clear, effective communication with your customers.
Zero Cost. Businesses don't need to worry about hidden costs – the core Instaply service costs nothing. Always.
The Need for Instaply:
31% of Americans now prefer texting as a primary communication medium.
On mobile devices, Americans on average make 5 phone calls, send 3 emails, and send 21 text messages per day.
Nearly 50% of Americans under the age of 35 say that texting is as meaningful for them as talking on the phone.
Users spent 5% less time on the phone in 2011 from the previous year, but texting increased 400% from four years earlier.
Pricing and Availability:
Available immediately, Instaply is always free to both customers and businesses. Consumers and businesses can download the Instaply app from the iTunes App Store or Google Play Store and be signed up and using Instaply in seconds.
About Instaply
Headquartered in San Francisco, CA, Instaply, Inc. delivers the world's first Mobile Customer Interaction Platform – enabling consumers to discover and interact with the Instaply text-friendly businesses through a simple text messaging app.