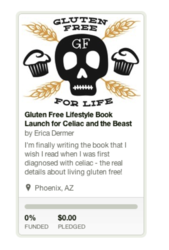 "I love talking about this autoimmune disease and believe in advocacy and taking a stand against fad dieting myths and other bologna and scare tactics out there about gluten-free life." said Erica
Phoenix, AZ (PRWEB) July 01, 2013
When Erica Dermer started Celiac and the Beast, she didn't know just how successful it would turn out to be. With over 3,000 Facebook fans and loyal followers on Twitter and Instagram, Erica has made a name for herself in the gluten-free community in just over a year.
As a born writer, she knew that she didn't want to stop with just a website. Erica just launched a Kickstarter campaign to help fund the production of her first book – focusing on real struggles and problem living a gluten-free lifestyle. While there are many books available to the gluten-free community, Erica feels like her unique voice and humor will not only provide an informative read, but an enjoyable read as well. She plans on using her sarcasm and humor to tell stories about living a gluten-free life without any sugarcoating!
"I love talking about this autoimmune disease and believe in advocacy and taking a stand against fad dieting myths and other bologna and scare tactics out there about gluten-free life."
The Kickstarter campaign will cover the costs of creating, self-publishing, cover design, interior design and page layout, proofreading, and copyediting of the book. The pledges will also cover the first printings of the book to take to gluten-free expos across the country. Any funding above and beyond the self-publishing will be put towards travel expenses for upcoming expos and conferences.
"While I wish that I could spend my life savings and put it into publishing a book, I just can't afford to right now. But, I don't want to give up on my dream, and I don't want to deliver a book that isn't high quality either. At this point, I'm looking to crowdfund my book's publication so I can deliver a quality publication to potential readers. I've also included some great rewards to spur pledges - including our Celiac and the Beast merchandise. On top of contributing to this book, you'll be rewarded with great merchandise too!"
Topics that are planned to be included in this book:

My celiac - not yours, but still celiac and still a fun time had by all
Getting diagnosed - the dream scenario that no one ever gets to have
Mourning the death of gluten - a rebirth of your new life sans gluten
Why celiac is the best thing that ever happened to me
First timer mistakes - what I learned and want to teach you to avoid them
Dining out GF - trusting the middleman taking your order
Food bullying - why do people have to be buttholes?
Disordered eating and gluten-free
Gluten-free family and events - how to not stab a family member your first few Thanksgivings
Navigating shopping - grocery stores and beyonds
Gluten-free traveling - how to survive the great unknown outside your comfort zone
The Power of support - getting involved in support groups
Gluten-free expos - how to shove grocery bags full of free food in suitcases
What's next - how to be a gluten-free advocate
Appendix: Meals so easy I can make
AND MORE!
For media inquires or to learn more about Celiac and the Beast, contact Erica Dermer, founder, at celiacandthebeast(at)gmail(dot)com.
http://www.kickstarter.com/projects/844349998/gluten-free-lifestyle-book-launch-for-celiac-and-t
About Celiac and the Beast
Celiac and the Beast was inspired by Erica's favorite Disney movie, its main character, and learning to love the "beast" that is celiac disease. After her diagnosis of celiac and other related issues, she started the website as a hobby and as a way to talk about new products that she found. After early success in readership, she has relied in her past work in marketing, branding, and writing to teach others about celiac disease and to help others live the gluten-free lifestyle.