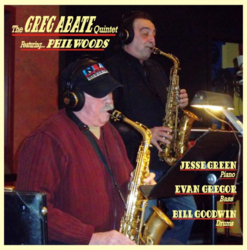 I sleep a lot better knowing there are alto players like Greg! It was a joy to make music with him and he writes good songs that are challenging ~ Phil Woods
(PRWEB) July 02, 2013
Greg Abate is known world over. His talent encompasses so many musical variables and has played and shared stages with the best in jazz. To date he has over 12 recordings in his music catalogue. Greg's latest recording lies close to his heart for he was honored to collaborate with jazz legend saxophonist Phil Woods. The other musicians on the set are Jesse Green on piano, Evan Gregor on bass and Bill Goodwin on drums. Abate is widely considered among jazz writers and aficionados to be one of the best post bebop alto saxophonists out there today.
"I sleep a lot better knowing there are alto players like Greg! It was a joy to make music with him and he writes good songs that are challenging" says Phil Woods
"The Jazz Network Worldwide is happy to have the chance to share grammy nominated Greg Abate's new recording with the jazz marketplace, for the coupling of these two legends along with this cohesive trio is pure magic to your ears, no wonder Downbeat gave it four stars" says Jaijai Jackson, creator of The Jazz Network Worldwide social network. Downbeat has given his new recording four stars!
"Multi-saxophonist Greg Abate is a prime example of the 'rear back and blow' school of contemporary bop-based players. The tunes he writes or chooses are based on the kinds of changes that harmony-oriented jazzmen have favored since the beginning and he swings through them with and eager and easy virtuosity" says David Franklin, Jazz Times Magazine
Abate is a year round traveler, touring all over the world playing Jazz Festivals, Jazz Societies and Jazz Clubs. Greg is also an adjunct professor of Jazz Studies at Rhode Island College and is also a very active jazz clinician with sponsorship from the Conn -Selmer Instrument Co., conducting workshops and master classes through the U.S and abroad.
"My feature on The Jazz Network Worldwide will be beneficial in creating more visibility to non-exclusive agents globally as well as Jazz festivals in the states and abroad" says Abate. "I want to continue to bring my music to the masses and through my latest recording, I know that it will bring new found relationships with entertainment buyers worldwide".
Greg's upcoming tour July 5th - 24th will be all through England. Be sure to come by The Jazz Network worldwide (http://www.thejazznetworkworldwide.com) this week to catch Greg Abates' feature. For tour dates, bookings and purchasing "The Greg Abate Quintet" featuring Phil Woods go to http://www.gregabate.com.