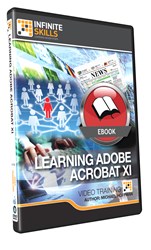 Learn Adobe Acrobat XI At Your Own Speed
(PRWEB) July 01, 2013
PDF, portable document format, has long been the standard for transmitting electronic documents, and Adobe Acrobat has been the leader in forging the path for creating, editing, and viewing documents in this format. However, in addition to its basic features for creating, viewing, and exporting, Acrobat has powerful tools for enhancing documents, allowing users to edit objects in the document, include interactive features, and collaborate in groups.
InfiniteSkills' "Learning Adobe Acrobat XI Tutorial" goes in depth, exploring these often overlooked capabilities, exploring how to share documents in a collaborative situation, work with multimedia elements, and manage electronic documents.
Learning Adobe Acrobat XI Training Video
Course author Michael Hoffman is a career photographer, artist, and trainer, with Adobe certifications in Acrobat and Photoshop. After beginning his career creating technical illustrations and photographs for electronic equipment manufacturers, he has continued to combine technology, photography and education in a productive career.
Hoffman's decades of practical experience in digital photography and design provide the insight into the everyday needs of PDF users that make Infinite Skills' "Learning Adobe Acrobat XI Training Video" perfectly tailored for users who want to create professional, high-quality PDFs.
Following an introduction to the latest version of Acrobat, including an exploration of its updated user interface, Hoffman explains how to create documents from files, printers, the Microsoft Office Suite, and various other common programs.
From there, he dives into the capabilities for editing PDFs in Acrobat, exploring often-overlooked features like transitions, backgrounds and watermarks, adding 3D content, and merging documents into a single file or splitting a file into multiple documents.
Hoffman also covers Adobe's collaboration features such as adding comments and annotations, working with stamps, and features for group review, following with a closing chapter on creating PDF portfolios with Acrobat.
"This tutorial unlocks the secrets of this powerful application," Hoffman says. "We'll learn the secrets of editing and enhancing PDFs to create professional documents that include interactivity, multimedia, and many other advanced features."
Free demo videos and a full list of course contents can be found on the Learning Adobe Acrobat XI Tutorial training page of the InfiniteSkills website:
http://www.infiniteskills.com/training/learning-adobe-acrobat-xi.html
InfiniteSkills offers its Learning Adobe Acrobat XI Video Tutorial either as a DVD or a direct download from the company website at a retail price of $99.95. All InfiniteSkills titles and formats are compatible with both Mac and Windows operating systems, and shipping is available around the globe. InfiniteSkills tutorials are supported by project files which correspond to examples in the videos.
About InfiniteSkills Inc.
A leader in the field of software training, InfiniteSkills strives to offer the highest quality training available at an affordable cost. InfiniteSkills tutorials are task-oriented instructional videos, teaching complex skills by providing hands-on examples, guiding users as they carry out critical objectives. InfiniteSkills offers a comprehensive range of software titles available as DVDs, digital downloads, and iPad editions, keeping with company aim of delivering professional training to customers anywhere they want to learn.